Lucky Brand Jeans (US): Jeans only $1.29 Each *HOT* (EXPIRED)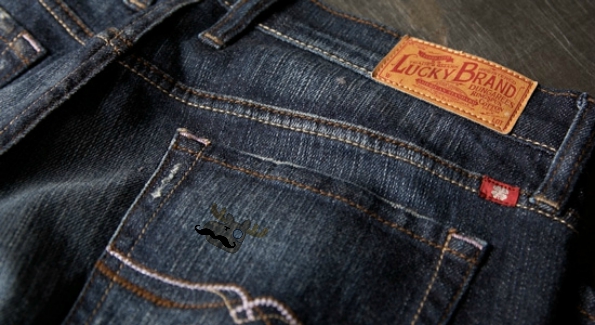 I am not sure if this is a pricing error or not, but Lucky Brand jeans has two styles of men's jeans on sale for just $1.29 each. Lucky Brand jeans usually retail for upwards of $70, so this deal is super hot! Shipping to Canada will cost you a $10 flat rate. Both the Italian Denim 363 New Vintage Straight and the Italian Denim 481 Relaxed Straight are on sale for $1.29 each. All prices are in USD.
If this is a pricing error, then the company may or may not honour the price they have listed on the website. Unfortunately, we have little (absolutely no) control over this. However, if they choose to honour the price, then you are getting a steal of a deal on men's jeans. The only real expense to this deal is the shipping. Yet, a flat rate shipping cost of $10 is pretty awesome because you can load up on jeans for so little with this deal. Check out my cart below: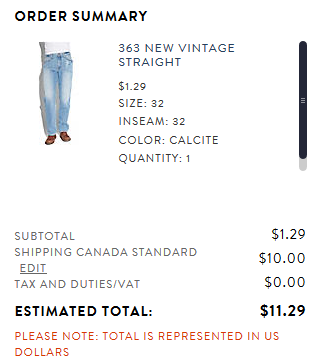 Is this not an incredibly hot deal? The dark wash jeans are selling out quickly but there are still plenty of sizes left in the lighter wash jeans. You choose both the waist size and your inseam with several combinations still available.
Customs and duty are calculated at checkout but you will not have to pay any because these jeans are so cheap. Sure, if you bought like 20 pairs then you might have to pay customs but certainly not for a few pairs of jeans. If your mate's jeans are all torn up - or yours - then give this deal a try and let us cross our fingers that this is not a pricing error.
If you successfully place a purchase and get it shipped to you, then drop us a line and let us know! We always love feedback from Moosers.
By the way, there are other awesome jean deals on the website. For example, this Classic Rider jean for women was $99 and is now just $9.98. Check out the huge clearance sale for other great deals.
(Expiry: Unknown)