Jack of All Trades Coupon Code For $10 Tees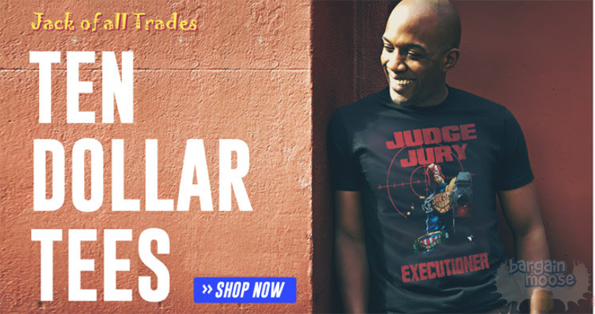 This weekend, Jack of All Trades, the funky clothing company, has released a coupon code to purchase a selection of their pop culture t-shirts for only $10 each! Here are the details:
Click here to use the Jack of all Trades coupon code online now
Coupon Code: 10TEES
Discount: $12 off select t-shirts
Expiry: 21st July 2014
The coupon code only applies to the t-shirts on the above link. There are 43 designs to choose from; with such popular culture references as the Big Bang Theory and Batman. Here are a few of my favourites – I'd definitely wear these:
There are many more to choose from, of course; Ren & Stimpy, The Nightmare Before Christmas, Minnie Mouse, Superman, The Hobbit, being a few more of the references.
Canadian Shipping
Shipping is quite reasonable! When I only had one t-shirt in my shopping cart, the flat-rate shipping to Ontario was only $5. This might vary depending on where you live. Putting two tees in my cart and the shipping stayed at only $5. This means it could be worth buying a few tees at $10 to offset the shipping cost a little bit. The more you buy, the less you pay per tee.
There seemed to be some sort of discrepancy with their shipping calculator in the shopping cart and the actual shipping price shown when you start to proceed through checkout. Once you go above three tees, the rates seemed to change. For three tees, the estimator said $5 but shipping was actually $9. Therefore, here's what I can work out for total costs:
1 tee = $15
2 tees = $12.50 each
3 tees = $13 per tee
4 tees = $12.33 per tee
All the above don't include taxes, you'd add those on as you go through checkout. Shipping from Jack of all Trades is free if you spend $60 or more on the site. Consider that too.