Happy Socks: 70% Off Sale - No Minimum!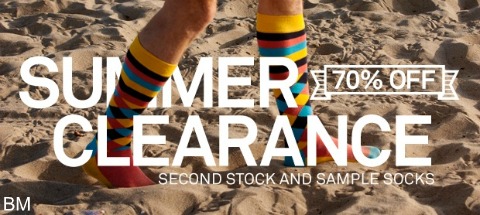 Happy Socks just upgraded their sale to 70% off all socks, no minimum buy! In the 2 years I have followed them, they have never had a 70% off sale, I am in shock and awe.
The 70% off includes socks, over-the-knees and tights. These are second run or sample socks, and that is why such a fantastic discount. You get free shipping to Canada with only 4 pairs of socks!
Happy Socks is one of my guilty pleasures, they are the only sock I wear! For $93.30 I just bought 19 pairs of socks and 2 pairs of tights! I just couldn't resist: the Batik Tights are regularly $31, and marked down to $9.30! I got a pair in black and white. The nylon tights are regularly $17 and marked down to $5.10!
My favourite section is the Hemp & Recycled Yarn selection of socks. I have wanted to try these forever. I just ordered 7/8 styles in this category. Regularly they would cost $16 a pair, but they are on sale for $4.80!
My best buy would probably be one-colour 2 pack I got in green: that is 2 pairs of socks for only $4.80 (reg $16!)
Totally thrilled right now, these sock deals are unheard of! :-) :-D :-)