Groupon Old Navy Canada Super Deal!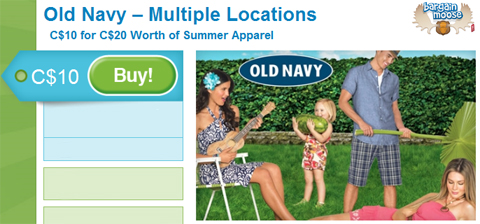 Bargainmooser Robin dropped me an email about this deal last night but I only just opened it a few minutes ago. It contains a SUPER deal from Old Navy Canada and Groupon.
The deal is this - you can buy a $20 Old Navy voucher for only $10!
I was reading the small print but was quite excited, so I found it a bit hard to understand. But basically, the voucher should be valid on full-price as well as sale items. The purchase limit is 1 per person, but if you and your partner or other family members have Groupon accounts too... perhaps you could buy a few! (Full terms here)
And as I write this, there are only 18 hours left to purchase the Groupon offer, so the Bargainmoose email subscribers might miss out on this deal - I recommend stopping by Bargainmoose a few times a day to make sure you don't miss out on the best offers.