Gap Canada: Men's Ripstop Fatigue Jacket Was $108 | Now $36 + Shipping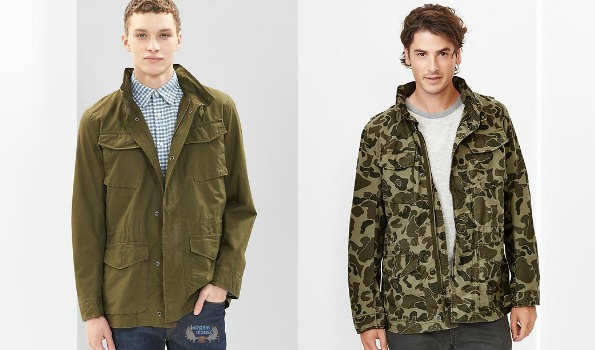 While this is a fantastic time to get yourself a winter jacket, it might also be the perfect time to get yourself a spring/fall jacket. Gap has a great deal on the men's ripstop fatigue jacket, that was originally $108. It is on sale for $54.99, but if you add the coupon code GAPGO, you'll get an additional 35% off, bringing this jacket down to a very low $35.74.
This jacket has two colour options. You can choose between ripe olive or camouflage. Both jackets have all sizes in stock with the exception of XS or XXL. I much prefer the ripe olive, but both jackets have a fatigue jacket type of look, which is pretty popular right now. This is a 100% cotton jacket that can be thrown in the wash at any time. It hips just below the hip, so its not a long jacket, but not a short jacket either. It has lots of pockets for storing whatever you need to carry with you as well.
I think a $70 savings is awesome on a jacket like this. It does have some mixed reviews and I see that it seems to fit smaller and tighter than for its size, so you might want to buy a size up than you normally would. I also noticed that reviewers were complaining about things the jacket didn't have, that weren't even listed as it having. For example, on reviewer said it is not water-resistant, but there is nowhere that says it would be. Someone also complained about it not having pockets in a certain place, but I think the pockets are pretty visible on the picture. Here is what one positive reviewer had to say:
I usually struggle with small pockets, not with this jacket. Only thing is the neck feels a little stiff but no big deal.
If you buy this coat only, you'll have to pay a flat rate of $8 for shipping. I suggest you take a look at what other clearance items are available on The Gap's website, or even Old Navy or Banana Republic, as you can combine your cart to get up to the minimum of $50 for free shipping.
(Expiry: 4th February 2015)