Carrie's Closet Canada Coupon Code: $5 Off Any Item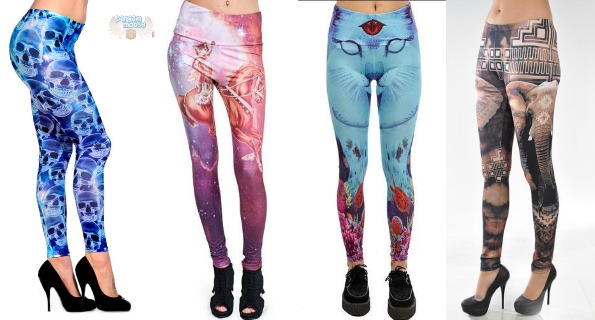 Carrie's Closet is a Calgary based company that sells funky tights and tops. They have a coupon code currently for $5 off any item.
Click here to shop @ Carrie's Closet now
Coupon Code: tryme
Discount: $5 off
Expiry: Unknown
Carrie's Closet has many different designs including animals, astrology, florals, comics, and more. One of the designs that first attracted my eye was the Astrology leggings that look like an astrological chart made love to a Ouija board. The leggings are white on black with zodiac symbols in colours. They are made of 95% cotton and 5% spandex for a form fit. This is an unusual composition, as most tights these days tend to be made with mostly synthetic materials like nylon. These leggings cost $32 but after coupon, they come down to $27.
The Stained Glass Cathedral Leggings might be my absolute favourite leggings on this website. I adore old churches for their stained glass windows and amazing architecture. These leggings really celebrate the beauty of stained glass and they would look phenomenal on my legs. The side panel in blue is just suck a lovely feature. These leggings cost $32 but if you bought them alone, with the coupon they would cost just $27.
Do we have any neon fans in the crowd? These neon lime green giraffe print plus size leggings are just begging for a party with some black light. Take these bad boys bowling! These are a polyester and spandex blend available in sizes 1X and 2X. See the size chart for details. Originally $32, buy these boys alone and you will pay just $27 a pair with our coupon. Great, now I want to go bowling tonight and wear some neon.
Now... for the ultimate pair of leggings. You have a cat, riding a horse, on a galaxy print. Anyone freaking out yet? Check out the Galaxy Cat Leggings for $35.99 or only $30.99 after coupon code. They come in sizes small through extra-large. Need more cat love? Check out the Bad Kitty Leggings for the same price. These leggings are starting to freak me out, seriously. They are just... crazy. That is some real kitty love going on there. If you wear these, I think even your cat will be scared.
Carrie's Closet has some excellent leggings options for those who are minding their budget. If you live in Calgary, you can pick up your order from their store. If you live in the rest of Canada, shipping appears to be $5 so the above coupon code will cover that.
For this and any future Carrie's Closet coupons, see our forum.