Beyond The Rack: Shoppers Paradise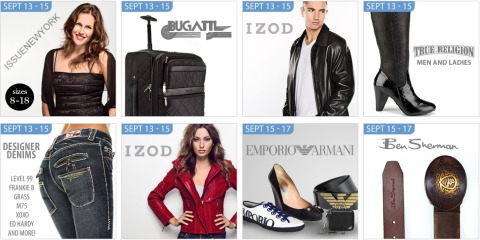 Beyond The Rack, what is it? It is an exclusive shopping network and it operates under an invite only or wait list model.  The link below is BargainMoose's invite to you.
Why shop at Beyond The Rack? It is authentic designer clothing, watches, handbags, sunglasses, makeup, perfume, shoes, jewelry, household items, pet items... etc: for 35 - 80% OFF retail prices. We are talking designers like Prada, Dior, Chloe, Juicy Couture, Movado, London Fog, Dolce & Gabana, Izod, it is endless.
I have been shopping at Beyond the Rack since March 2010. I now do my primary clothing shopping via Beyond the Rack. I thought I would give you as accurate an impression about the company, its strengths and weaknesses as I can. I think I have run the full gambit.
Beyond the Rack is a gift from heaven for anyone who likes any of the following: well made, designer, or expensive things. I do my primary clothing shopping there, and though I do not always meet with success I have a decent success rate and they do accept returns - but you pay for postage.
Strengths:
Incredible discounts on what I want. I got an entire cart full of Blac Label shirts and hoodies which totalled $177 with shipping, my savings was around $700 off retail price (I'm serious).
Flat rate of $11.95 shipping for your cart (max 10 items) no matter the size/weight of the items.
The variety of stuff is astronomical. Currently there is an Izod red leather jacket on there for $159 original retail price: $500. There are multiple brands on sale at the same time and every few months you will see them come back. Sometimes with the same stuff, sometimes with different stuff. There is no guarantee though that what you see in one sale will ever be back again.
This isn't just for women: They have plenty of men's stuff as well as kids. They even have stuff for your pets like beds, leashes, collars.. etc. I have noticed the Ed Hardy clothes seem to be quite popular with the guys.
You can invite a friend with your unique code. If they buy something, in a little while you will get $10 credit.
Great place for eco stuff like Bamboo clothing and cutting boards
AMAZING DEALS. Seriously. I have a full length silk and lace gown original retail around $760 we got for a little under $200.
Weaknesses:
On occasion I have ordered something, it has not come for months, I have emailed them about it and there has been an inventory 'error' with the supplier and they have issued a refund. Because this has happened a couple times with my account they also gave me a $10 credit this last time as a show of good will. This can be a pain if it is an item you really want and were looking forward to.
It can take quite a while, up to a month or two for your items to come in. For me the wait is worth the savings, for others it may not.
Size doesn't fit. Do research on different brands to see how they fit your body. Especially with European and Asian brand names they tend to fit SMALL. Do as much research as possible on a brand before you invest a substantial amount of money into anything. I have received several items that don't fit.. yet it wasn't worth the postage to return because the original product didn't cost that much... I have either given to friends or donated.
Twice I have received the wrong colour and once the wrong size (and once a missing belt). I have spoke to customer service and they told me to send it back and once they confirmed the error if possible they would replace with correct product at no cost to me. It can be frustrating to get the wrong product, but with the volume they go through daily it is no surprise. I personally couldn't be bothered out of my own laziness.
Note: As long as you choose Canada as your country all prices will be listed in Canadian, all products will be shipped from within Canada (Montreal), and there will be no duty. :-)