Beyond The Rack: Denby And Splendide Dinnerware 60-80% Off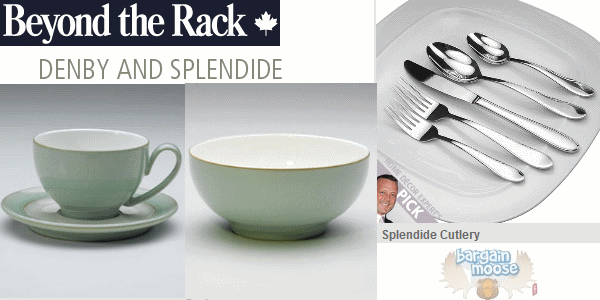 Having recently moved in with a roommate I have been looking for a second set of dishes for keeping stuff separate.  So, I was quite excited to see an offer from Beyond the Rack in my inbox this afternoon for gorgeous Denby and Splendide dinnerware, discounted as much as 80 percent off.
I could go down to Canadian Tire or Wal-Mart and get a cheap and basic set of dishes, but nothing as pretty and classic as what Beyond the Rack has, and not for prices this deeply discounted.
Some lovely examples:
These stoneware dishes are microwave, freezer and dishwasher safe, while the cutlery is heavy gauge gleaming stainless steel.
Kari Whiteman, "Decorator to the Stars", writes:
Denby and Splendide dinnerware combine elegant design, exceptional quality, and easy functionality. Feast your eyes on a tabletop collection that combines chic, contemporary styles and aesthetics with more traditional items, perfect for wedding gifts and year-round usage.
I don't know a lot about dishes, but I know I like the look of these ones. I did a quick comparison with some Splendide cutlery on sale by The Bay ($45 for a 20 piece set) , and some Denby ware also on sale at The Bay ($25 for a single plate), so this looks like a fantastic price for quality kitchen ware.