Bench Canada: Extra 50% Off Ana Top (Now $10 | Was $30)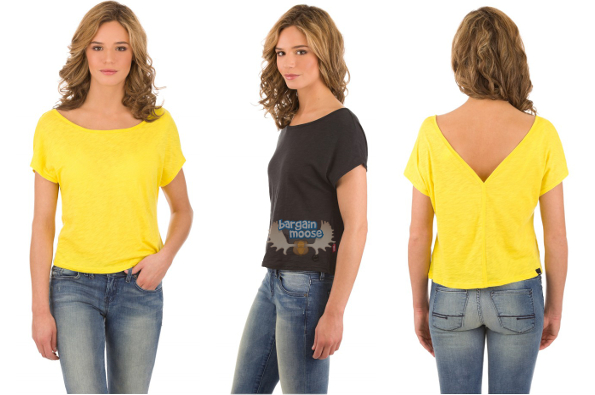 Right now, Bench is offering an additional 50% off all already reduced merchandise. Along plenty of other great picks, you can get the Ana top for just $9.99 instead of its reduced price of $19.99 (reg. $29.99). The discount is automatically applied at checkout.
Although it also comes in black, I much prefer the Ana top in the blazing yellow option given that summer is now officially in full swing. In yellow, it's only available in small, large or extra large, while in black, you can get it in medium or large. It looks rather ordinary in the front, but it's definitely one of those "business up front, party in the back" kind of tops as it features a deep V in the back. I could definitely see it becoming one of my go-to shirts for the summer, especially for grabbing lunch with a friend or attending a mommy meeting. ;)
Since shipping is only free on purchases totaling over $99, be sure to also have a look at the rest of the items in the sale section. Last week, my hubby had a hard time finding a tank that wasn't tight and so if it's the case for you or your own hubby, then have a look at the Hoff The Hook t-shirt. It's already on sale for $24.99 (reg. $29.99) but gets further reduced to just $12.50, which is definitely a much better price to pay than its full one.
If you're looking for a dress, then the Racer dress may be right up your alley. With the discount, it comes down to just $17.50 from its sale price of $34.99 (reg. $39)  and comes in either grey to black. Just like the Ana top, it's rather simple in the front but features the Bench logo in the back in a large font, which looks like a big number "1" from afar.
(Expiry: Unknown)