Armani Exchange Canada $20 Discount & How To Wear A Trench!
Do you like the smell of Armani in the morning? Well, you'll like this discount deal then.
For online shopping:
Where

: Shop online @ ArmaniExchange.com

Promotional Code

:

AX20ONLINE
Discount: $20 off $100
Expires: 16th Feb 2009
For shopping in-store:
I do really like the Armani clothing, but I think it's quite expensive, so every little discount helps. And I'm also quite intimidated by the persistently gorgeous models used in their advertising. Too many beautiful people! Making us normalites feel inferior!!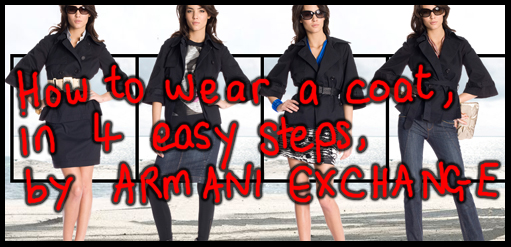 I was browsing round their website, and was quite intrigued by the "How to wear it" link. I embarked on a click journey, to see where it would lead me. For the ladies, it shows 4 ways to wear "the Trench." Now ladies, we're not really all that thick when it comes to putting on a coat. From the look of the pictures, their 4 methods seem to be:
Closed, with large contrasting belt
Open
Closed with small black belt
Closed with tied belt that came with it
Oh So Complicated! I think I need to go take a nap, I've stressed my grey matter in thinking about the myriad of coat-wearing options! ZZZZZZzzzzzzzzzzzzzzzzzzzzzzzzzzzzzzzzzzzzzzz