Adult Sensations: 15% Off Coupon Code & Product Review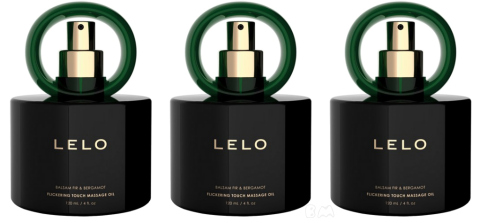 Adult Sensations has a coupon code to get you 15% off your order! It doesn't seem to have a minimum, which is just fabulous!
Discount: 15% off
Coupon Code: 15OFFCFS
Expires: ?
You will also receive free shipping on orders over $60.
I recently had the pleasure of trying Lelo Flickering Touch Balsam Fir & Bergamot Massage Oil from Adult Sensations. I chose the product specifically because:
I have had a great history with the quality of Lelo products
I like giving massages
It has 24 carat gold flecks, how could a girl resist?
The scent I chose: Balsam Fir & Bergamot, I chose specifically because I planned on using it to give my husband back and neck massages. I didn't want anything too flowery.
The verdict:
The container is beautiful to behold and the nozzle sends the oil into your hands instead of down the side of the bottle. It is a pleasure to own such a gorgeous bottle that works well. Love how the green ring pulls off and on.
The oil itself smells a bit like the trees after a light rain.. it is a lovely scent that isn't overpowering. I enjoy smelling my hands after giving my husband a massage with this oil.
The oil provides great lubrication for massaging, it melts into the skin well and it does not leave a layer of oil on top afterwards. Some massage oils I feel need to be washed off after, but not this one. Also, my hubby has ample hair on his back, and this oil doesn't matt the hair at all. Works beautifully.
So I love the smell, I love the applicator, I love the application... is there a downside? Not really... however I must say those 'gold flakes' don't really add anything to the package except for a 'ohh.. there is gold in here' and mental pictures of the woman from Goldfinger!! :-D
4/5 stars!