Abercrombie & Fitch (US): Mackenzie Shirt Was $64 | Now $16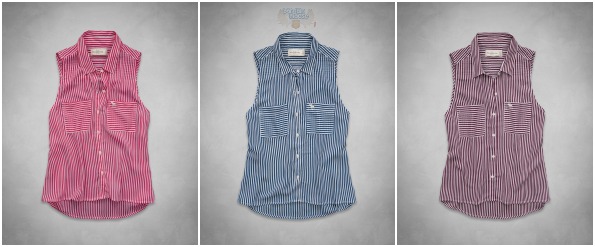 Abercrombie & Fitch is an ever popular store wherever I go and their clothing can be seen on young adults on every street corner. While browsing their clearance section, I ran across a fantastic deal on this Mackenzie Shirt. Originally $64, the shirt is now on sale for just $16! That is exactly 75% off the original retail price so you are saving some good money right there.
All prices are in Canadian Dollars.
This shirt is available in four different colours: navy stripe, blue stripe, pink stripe, or burgundy stripe. Abercrombie & Fitch's sizing for women ranges from extra-small to large. I found that the last three colours mentioned have all of the four sizes still in stock. Navy stripe is limited to sizes small and large already. The Mackenzie shirt features chest pockets with the classic moose embroidery on the left chest and a stacked scoop hem that looks rounded in the back. This shirt is a true steal.
Looking for other deals while you shop? I found a few others that might catch your attention. The Cheeky Message Sweatshirt was $64, but on clearance the shirt costs just $19.20, bring this sweater to 70% off. Only M/L is available in the light turquoise colour. However, dark pink has both XS/S and M/L still in stock.
There are also a few pairs of shorts on sale for a very good price, but sizes are also extremely limited:
Those were the two hottest short deals going on right now.
This weekend, Abercrombie & Fitch is also offering an extra 20% off their regular priced and sale items. This coupon code excludes clearance items like the amazing deals above. You can still have both in your cart and just use the coupon code on the other stuff, thus I thought it worth mentioning. Use coupon code 10314 for 20% off your entire order (excluding clearance and a few other things) this weekend. I would shop the sale section right after picking up some of these deals in the clearance section.
A&F ships from the US but they cover duty on shipments to Canada. You just have to pay for shipping, which starts at $15 – so I highly recommend reaching their free shipping minimum. Currently Abercrombie & Fitch is offering free shipping to Canada on orders of $75 or more.