77% Off Men's Imitation Leather & Knit Jacket Was $130 | Now $30 + $4.95 Shipping @ Zara.ca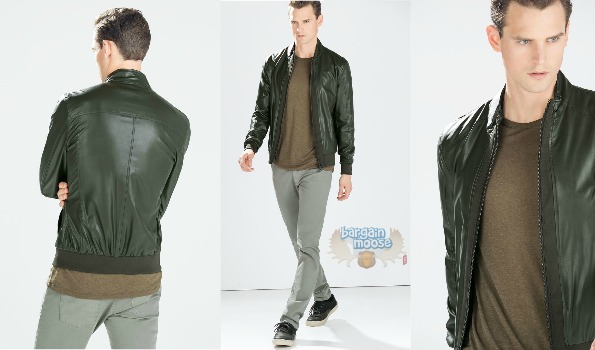 Zara has some great items on clearance right now, including this sleek men's imitation leather and knit jacket. This jacket was $130 but is now only $30. Zara has a flat rate shipping fee of $4.95 for all orders under $50, and offers free shipping for any orders over $50.
I love a man in a nice looking leather jacket. I do not always like paying the price that comes with a real leather jacket. No one will be the wiser that this is imitation leather with this deep khaki colour. This jacket is cut well and seems to be well constructed. It used to be $130 but now you can grab it for only $30, which is a steal. I like the deep khaki colour, which should blend with most of your wardrobe.  This jacket is available in a medium, large and extra-large size.
I think this is also the kind of jacket that can be worn in both the spring and the fall.  I would suspect that it is a light overall, and would not plan to wear it until spring. A jacket like this also does not really go out of style. A versatile, multi-season piece is always welcome in my husband's closet.
I tried to price match around a bit, but this is a tougher item to match as styles can vary quite a bit. Looking at Hudson's Bay, the most inexpensive men's faux leather jacket I could find is the GUESS Faux Shearling Crinkle Jacket on sale for $75. Guess has on their website a Faux Leather Bomber Jacket that is on sale for $133.50. Sears has a Point Zero Leather Look Jacket that is on sale today only for $50, but is only in size 48. I think you are better off pickup up the jacket at Zara. Unfortunately there are no reviews on the jacket from Zara, so you will have to use your own good judgment.
There are a couple other jackets in the Zara men's section at a great steal right now, but the sizing is somewhat spotty. This Knit Waistcoat With a Hood was $60 but is now only $20. This jacket is available in sizes large and extra-large. I see this as being perfect for the guy who loves to live in hoodies, but perhaps needs something a little sleeker for everyday.
If you like the look of the imitation leather jacket, you may want to also peek at the Embossed Jacket. This brown jacket was $90 but is now only $30. If you are a size small, medium or large you will be in luck because they have your size.
If you want a jacket with a bit more edge, this black Biker Jacket is on sale. Only size medium is left. If it is your size, you can score a biker jacket that was $150 for $30. Every hot guy should have at least one biker jacket in their wardrobe. Unfortunately, a motorcycle is not included with the jacket but we can pretend.
Shipping at Zara is reasonable. You will pay a flat rate fee of $4.95 for all orders under $50. If your order reaches a minimum of $50, your order will ship free. These jackets are on final discount. The deal will only last until the stock runs out.
(Expiry: Unknown)