Clean Without Chemicals! Bissell Steam Shot is $50 + Free Shipping @ Amazon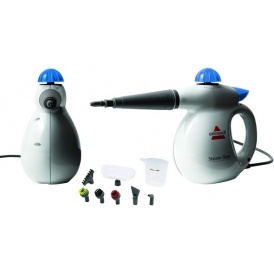 I'm always looking for ways to keep our home cleaner and safer. I've switched to natural cleaners since having my son as I'm paranoid about him getting into things (mostly because he gets into everything). I came across this handy little Bissell Steam Shot on Amazon, at a great price, and wanted to share it! Usually $59.99, Amazon has it for $49.99 and it will ship for free.
The Steam Shot is a handheld steam cleaner that cleans both hard and soft surfaces with zero chemicals or harsh ingredients.
It comes with nine accessories including a fabric steamer, a window squeegee, grout and detail brushes, and more.
Reviews and comments are very positive with the only negative comment being that, while the machine works really well, it's only good for small jobs as the water reservoir is small. Someone else points out a brilliant use that I never would have thought of -- using it to clean those grimy little caps at the back of the toilet seat! I think it would be great for the high chair and toys, too.
The Bissell Steam Shot sells for $60 elsewhere; pay just $50 and Amazon will deliver it to your door for free!
Have you tried one of these steam cleaners, Moosers?
(Expires: Unknown)