R Deals Canada: 56% Off A Set Of Hair Chalk From The Care Touch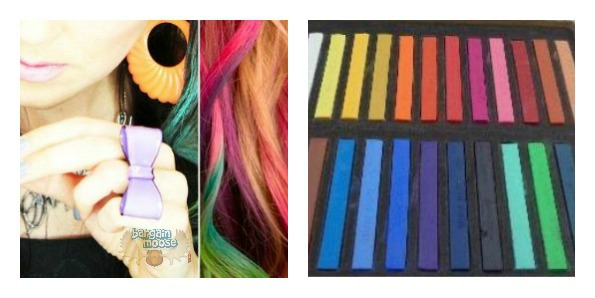 RDeals Canada has vouchers for 56% off a set of hair chalk from The Care Touch.  You can purchase up to 10 vouchers for yourself and 10 as gifts, but only 5 per customer can be used per redemption.  The shipping and taxes are included.  This cannot be combined with any other offers or promotions and vouchers expire 6 months from date of deal closing.
Here's a great way to dye your hair temporarily.  Simply apply to wet hair and rub onto desired area.  Use a curling iron or straightening iron to set the colour longer.  This will wash out completely in just a single wash.  Be careful not to wear anything that you don't want to get some chalk on, as the dust may get onto your clothing.
For the best results, start with shampooed hair that has been combed and wear a pair of gloves while dying your hair.  The best way to use this is by twisting hair to more easily dye chunks or sections, and use smooth strokes from up to down, following the growth of the hair.  The amount you need will depend on your hair colour.
This is pretty cool; you can dye a little bit of your hair to match whatever outfit you wear at the time and wash it out the next day, ready for the next colour.  The set comes with 24 assorted colours, so there's a lot experimenting to do.
Shipping: Included.
(Expiry: 22nd November 2012)