NewEgg.ca: 33% off 42" LG Smart LCD HDTV (Pay $800) + FREE Shipping + More LG Deals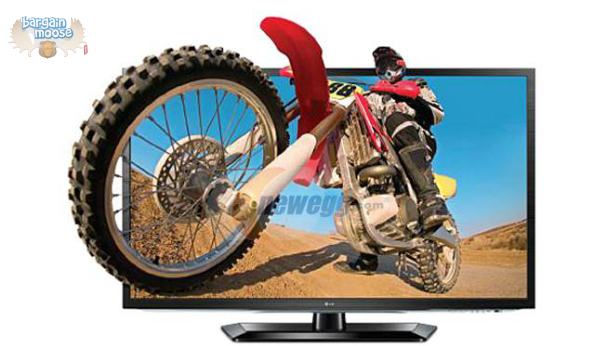 LG and NewEgg Canada have paired up to bring you some great deals on some great products. They have everything from TVs to Blu-Ray Players to Sound Bars and almost all off them have free shipping.Today we're focusing on an awesome HDTV with a steep 33% discount!
The TV normally costs $1199.99 but NewEgg is giving you $400 off so you'll only pay $799.99. You also get free shipping and, as we'll talk about in a second, four pairs of LGs gaming glasses.
Ok, so gaming glasses. Traditionally you play multiplayer console games in person with a split screen or on multiple TVs. That is fine but with the advent of 3D TVs, some smart people saw an opportunity. You both get to play full screen but with the glasses, you each see a different image. I tried explaining how they work here but it's a bit too hard to do in a deal article. So suffice it to say, they work.
The TV itself has all the stuff you'd expect in a new LG HDTV. 1080p, 120Hz, 3D and LED back lighting. The Product image also shows four pairs of 3D glasses come with the TV but it doesn't say that in the product description. I suspect they are included.
BONUS ROUND!!
NewEgg has a bunch of products on sale and all of them, except one Blu-Ray player, have free shipping. The Blu-Ray player only costs $5 to ship.
(Expires: 29th November 2012)