Ikea Christmas Trees – Technically Free?

This offer is supposed to be available at all Ikea stores, starting November 29th 2008. If you buy one of their $20 Christmas trees, they will give you a free $20 gift card which can then be used towards a $75 spend, between January 2nd and March 1st, 2009.
So maybe I wrote the blog title to get you in and get you reading, but this is what I mean by "technically free." As the tree is $20, and you're going to be saving $20 off your next order anyway, you could almost say that your new Christmas tree from Ikea is practically free!!
I must say, I really love putting up the Christmas tree, shopping for gorgeous decorations, and accessories. Of course, it's a yearly ritual to untangle the Christmas tree lights!! I do think a living Christmas tree looks and smells so much better, but it is quite a lot of work… choosing the right shape and size, putting it up, making it stable in the bucket, keeping it watered, dealing with those irksome pine needles all over the house, etc! I'm still finding dead pine needles from lest year.
I'm thinking I might just go for an artificial Christmas tree this year. Some of those do look pretty realistic. I also like to choose a colour theme for my decorations. Last year, everything was red and gold. I feel that's a very Christmassy look.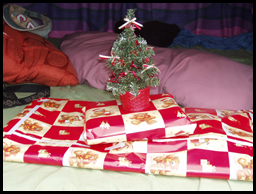 I found a nice blog post on sunflowers-dragonflies.ca where Beth shows us how to make Christmas tree ornaments from scratch. That would be a nice one to try out with the kids!
The image to the right is a picture I took, Christmas 2004. Me and the man were travelling in a camper van around Australia. I love Christmas, so I insisted on buying a Christmas tree – never mind that it was only a few centimetres high! It was way smaller than the wrapped pressies too!