Bluenotes: Christmas Onesies BOGO Half Price, Extra 10% off & Free shipping! ($20 Each!)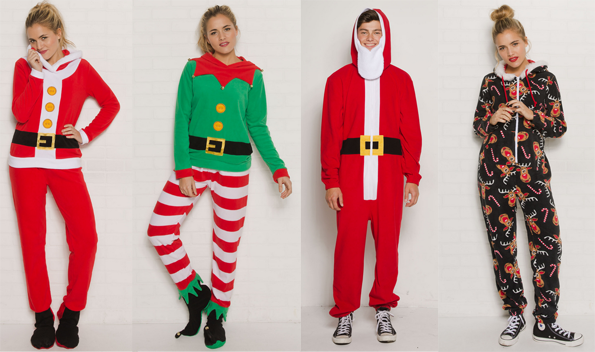 Yesterday, Brooke wrote here about a sweet deal from Bluenotes a coupon code for an extra 10% discount plus free shipping on ANY order. It made me recall that when I was in-store a few weeks ago, they had an amazing range of onesies and I wanted to have a look now and see if there were any Christmas ones available. And there are! What's even sweeter is that these Christmas onesies are also on a buy 1 get 1 for half price offer – and the deals are all combined for some awesome prices here!
Please use the coupon code MERRY to get an extra 10% discount plus FREE shipping on any of these items! When you add two to your shopping cart, you will get one for half price. So this deal makes the most sense if you purchase in multiple of two. Buy one for you… one for a friend. Wait, who am I kidding – buy TWO for myself!
Honestly, some of these onesies are HILARIOUS and I love them. I'd wear the heck out of many of these. :) I've pictured a few of my favourites above, but there are a couple more to choose from too.
For the guys, there is only a Santa themed onesie in the Christmas range, but there are a lot more choices for girls, such as:
OK so they've thrown a few twosies in there as well… :)
And if you're taking Brooke's advice on making a Christmas Eve box, perhaps you could get a Christmas onesie for that!
I actually don't have any Christmas themed PJs… there is definitely a gap in my life for these.
(Expires: unknown)