Where To Buy The Popular Bunch O Balloons Toy In Canada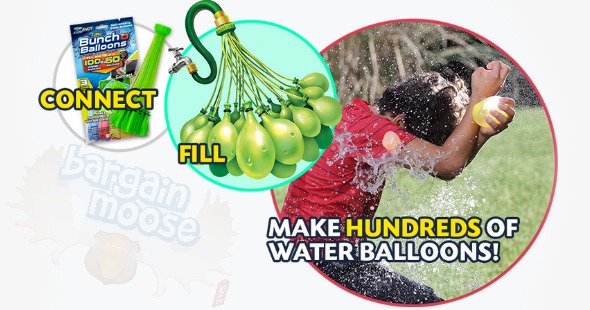 This summer you can expect the Bunch O Balloons toy to be immensely popular. Sales are already sky-rocketing - and you can probably see why. Everyone is asking where they can buy Bunch O Balloons. Here is your answer! Note that these Bunch O Balloons are generally sold as a pack of 3. Each pack contains 100 self-sealing water balloons.
There are a few Canadian retailers with this adored toy. The problem is finding them in stock. That is what you have us for! I have gathered a list of Canadian retailers that carry the Bunch O Balloons toy and provided information on their stock level, shipping options and more. So if you're ready to fill and tie hundreds of water balloons within minutes, then get shopping. Say goodbye to the hassle of preparing for a water balloon fight this summer. All you have to do is connect the Bunch O Balloons Toy attachment to a hose and before you know it you will have 100 water balloons at your dispense. The water balloons are also self-sealing. I think my jaw just hit the floor.. This might just be the best thing since sliced bread. I used to get blisters on my fingers from tieing so many water balloons for our annual "End Of School" water balloon fight with all of the neighbourhood kids.
Take a look at the Canadian retailers that carry Zuru's Bunch O Balloons:
Canadian Tire: Canadian Tire has a 3 pack of these Zuru Bunch O' Balloons for just $12.99. Unfortunately they cannot be purchased online, you'll have to enter your postal code and select a pickup location to check the inventory of your local Canadian Tire store. Looks like all of my local Canadian Tire stores are sold out already.
Chapters Indigo Canada: Chapters.Indigo.ca has their Bunch O Balloons 3 pack listed for $14.95. Unfortunately they are on re-order online and can only be purchased in store right now, until there are more in stock. You can click "find in store" to see where you can get some Bunch O Balloons near you, but the price may vary a little bit. My local Chapters store has them in stock *fist pump*!
London Drugs Canada: If you want to purchase these Bunch O Balloons but don't want to leave your house to do so, then don't fret. LondonDrugs.com still has some in stock for just $12.99. London Drugs sells this adored source of entertainment in a 3 pack as well, and you won't get to pick your colours unfortunately. London Drugs has free in-store pickup or free shipping on orders over $200. Chances are you're not about to spend $200 on water balloons though, right? Standard shipping can cost you up to $10 depending on your location in Canada.
Mastermind Toys Canada: I love heading into this store with my toddler. Right now Mastermind Toys Canada is selling the Bunch O Balloons 3 packs for $14.99, but they are no longer in stock online. That means that this is yet another Canadian retailer that you have to check your local store for inventory.
Party City Canada: PartyCity.ca by far has the best price on these Bunch O Water Balloons. Unfortunately they are sold out online, so getting this popular toy for just $9.99 sounds a little far-fetched. You can check your local Party City store for inventory though, just give them a call. Unfortunately there is no way to check via their website.
I just watched a few reviews on YouTube for this Bunch O Balloons product and I must admit, I am impressed. You need to get your hands on this product for some fun this summer. The only time consuming part of your water balloon fights are going to be picking up all of the dead balloons now. I am excited that I won't have blisters from knotting hundreds of balloons each year.
Moosers, have you tried this popular Bunch O Balloons toy? If not, will you try it out? Let us know in the comments below.