Pokémon Books from $5 @ Chapters Indigo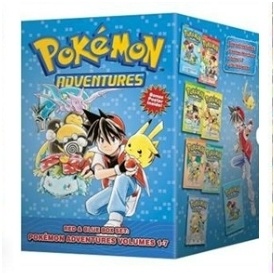 Are your kids in on the Pokémon Go craze? Well, how about some books for the times they're not running around the neighbourhood hunting Pikachu? Chapters has a great selection and their online prices are discounted by as much as 37%.
The Junior Pokémon Handbook is perfect for younger ones that can't get enough of Pikachu, Piplup, Chimchar, and Turtwig and it's just $4.98. Individual issues can be found for less than $6!
The Pokémon: Deluxe Essential Handbook is a must-have for Pokémon fans and includes stats and facts on over 700 Pokémon. List price is $13.99 but snag it online for just $9.50.
Older kids will love the traditional right-to-left style of the manga box sets. For 37% off the list price at $43.44 you can get the 7-volume Pokémon Adventures FireRed & LeafGreen / Emerald Box Set that includes volumes 23 through 29 and concludes the FireRed and LeafGreen and Emerald story arcs of the Pokémon Adventures. Each box set includes a cool collectible poster, too!
And my favourite is this Pokémon Felties: How to Make 16 of Your Favorite Pokémon. Kids can learn how to create and stitch together 16 of their favourite character felties. All components to create Pikachu are included. It's just $16.96.
There are a ton more options to choose from so you can find that special one for your kiddo. You may need some recommendations from them anyway if you, like me, are a little lost when it comes to this stuff!
Chapters ships orders of $25 or more to your home for free or any order to one of their stores for pick-up.
(Expires: Unknown)