Hogwarts Library Hardcover Boxed Set Just $24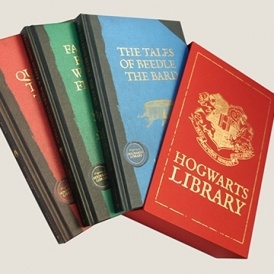 Harry Potter fans and parents of Harry Potter fans (and me!) should hurry up and take a peek at this deal on Amazon.ca today—the complete hardcover Hogwarts Library Boxed Set for just $24.
My 8-year-old and I have just started reading the Harry Potter series. We're on the second book now, Chamber of Secrets, and I'm not sure which one of us is more excited to pick it up each night. We've got the original series in soft cover books and as usual with kids, by the time we've got through them they are looking a little worse-for-wear. I call this condition "well-loved" rather than ruined but I've been keeping my eyes peeled for a keep-sake box set of all seven books that she can have to display in her room and cherish in the future.
Unfortunately those sets are really pricy and hard to find on sale. Today during my browsing I came across this set—these books are supplementary to the original series making them a really fun addition to a Potter collection. Quidditch Through the Ages, Fantastic Beasts and Where to Find Them (both in hardback for the first time) and The Tales of Beedle the Bard are absolutely books that my daughter would devour on her own on evenings when we're not able to read the original series together. For just $23.97, this would make pretty awesome gift for her.
This set comes in at just under the free shipping line for Amazon.ca, which is $25, but here's an idea, tag on another gift for the Potter-lover in your life, you can grab the best selling Harry Potter Colouring Book here for just $10. Or, think about preordering the newest Harry Potter book, Harry Potter and the Cursed Child (Parts I & II).
(Expiry Unknown)