Chapters Indigo Paperbook Deal In-store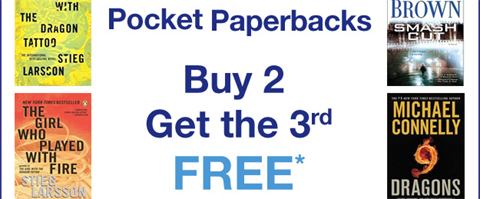 This is just a quick post to let you know about a deal in a recent email from Chapters Indigo. All pocket paperbacks are on a special offer where you buy 2 and get the 3rd for free!
Sadly this deal isn't available online, so you will have to drag your lazy bodies down to the Chapters Indigo store if you want to take advantage.
Since I bought my Sony ebook reader last year, I haven't really bought any books in real life. My partner recently bought a paperback copy of Neil Gaiman's The Graveyard Book, and it was kind of nice to read a proper book for a change. It was a very good story, if you're a Gaiman fan... and even if you're not. It's aimed at kids aged 7 to 9, but that really doesn't stop me getting my teeth into a good story.
(Deals ends Sunday 1st August 2010)