Chapters Indigo: 74% Off Frozen Monopoly Junior now $5.50 & Free Shipping!!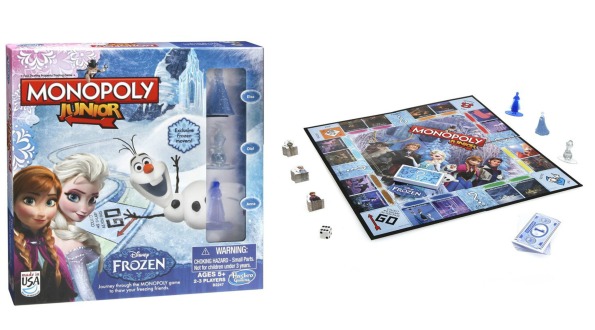 *Bump! I just wanted to bring back Alexa's post because the price is further reduced and now shipping is included!!*
As part of my New Year resolutions, I told myself I would make more of an effort to spend quality time with my family. I then decided to be proactive about it, and to really search for ways to spend quality time with my child. I realized I didn't have too many board games and that they would be a great way to spend more time playing with my child and my husband. I think a board game like the Frozen Monopoly Junior, pictured above, would be one of many ways to do so. While my son is too young to play this, I think many families could get their kids playing board games with a theme like Frozen. This game is 49% off 74% off. It was originally $21.95 and is now down to $11 $5,50.
At only $11 $5, mom and child will both be happy about this purchase. This game also qualifies for free shipping with no minimum purchase right now. The sale section at Chapters Indigo is fully stocked, with items for women, men and children. I don't think I'd even have any problem fulfilling the $25 minimum that is normally required for free shipping, that's for sure. 
If you're wondering why this game is called "Junior Monopoly", the answer is the game is simply downsized. Here is what you get in the box: 3 character movers, 24 chance cards, 36 character markers, 90 x M1 banknotes, 1 die and instructions. This game is for 2-3 players, slightly less than a regular Monopoly game. Less players means less confusion for the little ones, which equals to a better play experience! This game is suggested for kids 5 to 10, which seems appropriate. I think old kids will have way more fun playing Monopoly, but even 5 years old aren't too young to get introduced to this classic game.
When you think about it, Monopoly can teach your little ones so many skills through play. I still remember my sister counting every single bill of her Monopoly money when we would play, and guess what, she is still tight with her money today! All jokes aside, learning while having fun is the way to go. Kids can suddenly take an interest in things they would dread hearing about, but are incorporated into Monopoly. The number one subject being money management skills.
You can get this game shipped for free at your local store, or you can get free shipping with no minimum purchase until January 21st, 2015.
(Expiry: Unknown)