Chapters Indigo Canada: Spend $20 & Get Select Books For $5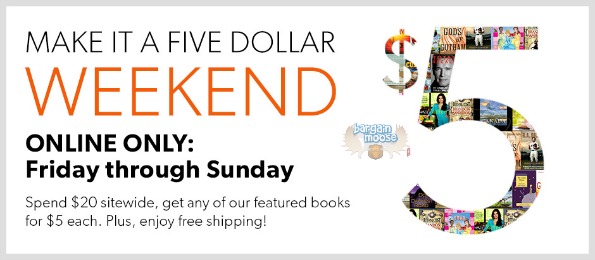 This weekend only, if you spend $20 at Chapters Indigo, you'll be able to pick up a book from a select list for only $5. Because at this point you're spending $25, you'll also get free shipping.
There are a few books on this list that I'd like to pick up for $5. None of them are on the hot best sellers list, but they also aren't an obscure list of books you've never heard of.
I love getting new cook books, even if celebrities write them, because I love trying out new recipes. Eva's Kitchen: Cooking With Love For Family and Friends by Eva Longoria is one I want to get simply because it belongs in Eva's kitchen. Either way, this book is a steal with a regular price of $34, but is on sale for $9.49 and you'll get it for $5.
You can combine this deal with any of their current deals of the week, so you get a deal along with a deal. One that would work perfect for us is getting The Lego Movie on DVD, because you know, everything is awesome. It is $19.99, so I'm hoping that it is allowable in getting the $5 book. Every kid I know absolutely loves this movie and I found it hilarious myself.
If baby needs anything, Skip Hop is 20% off and this Alphabet Zoo complete sheet is so freaking cute, I wish I could have another baby just so I could use this in his crib. I say this because I already have three boys, I'm sure my fourth would be a male too. Regularly $30, you'd get it for $24 and be able to pick up a $5 book along the way.
Don't forget that on weekends, Chapters Indigo also has a 15% off coupon code on select items, which would also be an easy way for you to save money.
(Expiry: 22nd June 2014)