Chapters Indigo Canada: 75% Off Minimus Decorative Pots - Now $9.50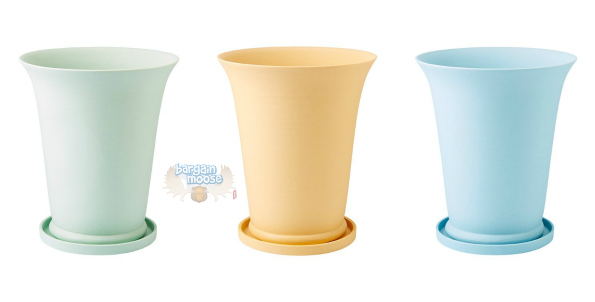 Sometimes the Chapters Indigo Sale section really has some incredible deals that you just do not want to pass up. Currently, they are offering 75% off these adorable little Minimus Decorative Pots. Originally $39.50, these little pots are now on sale for $9.50 each. Receive free shipping on orders of $25 or more.
These pots are not available in store - they are online only product. While the first image makes these pots look rather large, because there is nothing in for scale, they are actually cute little things. Their approximately measurements are 4.5" x 4.5" x 5.2". They make the most adorable decorations on book shelves, mantels, dressers, and more. I am not sure if these are safe for outside use, but you could always put them on a patio or deck. I have a covered balcony off my house and I could totally see using these out there.
These pots come in denim, mint, or yellow and I cannot pick a colour! They are all so pretty! Rather than a blue jean 'denim' I would more likely this colour to a vibrant robin's egg blue. The yellow looks like diluted sunshine and the mint - well - mint is one of my favourite colours. It is like green and white got together and had a child. It also reminds me of After Eight drinks.
I would probably buy a few of these little pots to mix and match around the house. Because of their size, I really think they work best in pairs or in threesomes.
The little pots are great for small bunches of flowers, faux flowers, leather flowers (I own some!) and other things. You can also leave them empty and just use them for decoration. In a child's room, I could see these being used as pots to collect miscellaneous goods. I used to store funky rocks in a pot I owned. You could also buy one of each colour and use them for saving change. Each colour is a different currency. Use them to hold pencils, crayons, markers, pipe cleaners and more. While plastic containers are more child safe, older children can use the pots as organizational containers.
Shipping is free on orders of $25 or more, thus three pots would qualify for free shipping.
(Expiry: unknown)