Chapters Indigo Canada: 50% Off Woven Baskets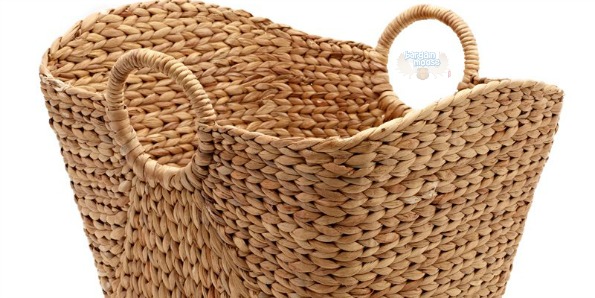 If you are looking to add a rustic feel to your home, shop the 50% off woven style baskets sale at Chapters Canada.
These are what I would call wicker baskets, but I am not sure if I am using that term right. It might refer to a certain type of material used in the weaving process or a certain type of weave. Either way, there is a very nice selection of woven baskets that you can get 50% off at Chapters right now.
My favourite basket is also the most expensive (no surprise there). The Sweater-Weave Basket – Tote features a beautiful woven pattern with the handles woven to rise out of the basket. The basket is made of eco-friendly water hyacinth, and is hand-woven by artisans. I cannot even fathom the number of hours that would go into a basket like this; it makes the price seem rather low. Originally $59.50, this hand woven basket is now only $29.75.
You can get your baskets in different shapes and sizes. The Water Hyacinth Basket—Medium is a classic shape and aesthetic. If you want something a little more country, pick up the Rustic Handle with Basket – Medium for the same price. Each have been discounted to just $19.75, originally $39.50.
There are so many baskets discounted right now; here is a list of other ones you can get on sale:
Baskets are easy to use and they really are the organizational dream - as well as mason jars and tin cans! I have a woven basket in the shape of a picnic basket with a fixed raised handle that I have used for storing all sorts of things over the years. It started as a sewing basket, and then stored unopened personal care products like bars of soap, lotions, razor blades, cosmetics, and whatnot. Currently it is being used as a base to stand the mop, broom, Swiffer, and a few other things in while holding grocery bags in the other side. No matter what, there is always something to store in my woven basket.
Receive free shipping on orders of $25 or more at Chapters Indigo.
(Expiry: Unknown)