Audible.com: Member Appreciation Sale Ends Tomorrow! 40% off + FREE Trial and Two FREE Books!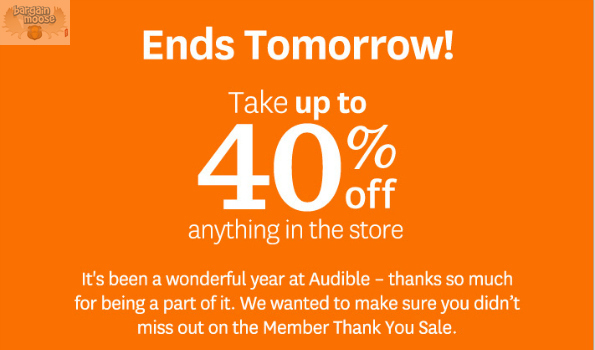 Audible appreciates its members. What does that mean to all you non-members? Well, it means Audible doesn't appreciate you and neither do I! So what do you have to do to regain my appreciation? Why, get a FREE membership, two free books and 40% off a-la-cart books.
Click on the link above to get a FREE 30 day trial and a free credit. Most books are only one credit but a small few are two credits. Regardless, there are tens of thousands of books that you can get with your FREE credit. After your trial is up, you can get a monthly plan for one or two credits or, if you don't like the idea of paying monthly, you can get a yearly "light" account for $10 a month. Getting the light account means you can take part in the tons of great members-only deals that Audible offers!
What? A free book by the amazing Brandon Sanderson, author of the Mistborn books and the author chosen to complete the prolific epic fantasy series The Wheel of Time? Well, don't mind if I do. This is one of the rare times that Audible has a deal that doesn't require a membership so have at it! Legion is an amazing short story/novella that really makes me wish there was a lot more to it! Fantastic.
And of course the main event is the Members Appreciation Sale. Up to 40% off the world's best audio entertainment. They now have over 100,000 titles including books, newspapers, radio recordings and more. These aren't your grade three books-on-tape, read by professor Werner Von Snooty Bottom. These are amazing performances that make the book come alive! If you aren't an Audible member, you are seriously missing out!
(Expires: 21st December 2012, 11:59PM ET)