The $5 Item Your Child Needs For Back To School From The Source
25 July 2016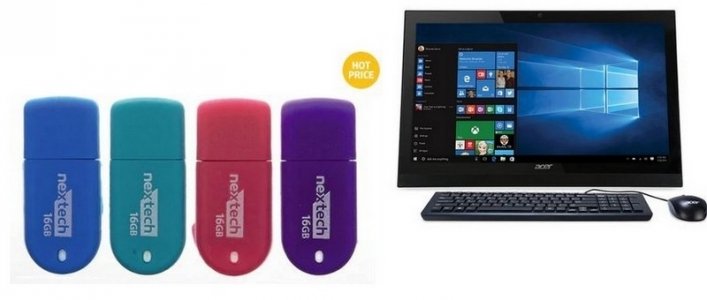 Although most people generally prefer USB 3.0 thumb drives over USB 2.0 for moving larger files over, for only $5, down from $20 for a Nexxtech 16GB USB Flash Drive this is ideal for the kids to use when they go back to school and need to save documents! Who cares about the speeds/USB 3.0 then? Documents saved for school are such small files, where speed wouldn't even be an issue!
This thumb drive has a 1 (or 5 year) warranty on it, depending on how you look at it... (see below - there's an error on the website I believe, and I think the 1 year warranty is what the warranty actually is, as that seems to be standard.
You could purchase this with a 'double the manufacturer warranty' credit card if you have one, to get 2 years warranty, or, you could add 3 years of protection for an additional $6.99, by selecting the 'add a warranty' on the webpage description of the product.
Here for your information is the discrepancy between the warranty. I'm positive that there's a 1 year warranty on the product and not 5 years. It appears the 5 is an error, since you can purchase 3 additional years of warranty for $6.99. I'm pretty sure no retailer would ever put up to an 8 year warranty max on a product such as this. ;)
Summary This plug-and-play compact flash drive* is a convenient and stylish way to store and carry all of your important data wherever you go. With 16GB of storage, you can keep thousands of songs, documents and pictures in your back pocket. The funky gummy texture makes it a great accessory to take with you to school or the office. This 16GB USB 2.0 flash drive is compatible with most Macs and PCs and comes with a 5-year warranty. *This item ships random colours. UPC:741235308126Manufacturer's Part Number:NT-Z16GFBJBBProduct Warranty:12 months
Either way, $5 for a 16 GB thumb drive is a super deal.
I like that this particular item is a funky gummy texture that's non-slip. (I want to gnaw on it, just a little, you know? ... besides looking pretty weird, it could destroy my data. Nom Nom Nom.)
For only $5 for this Nexxtech thumb drive you could have this shipped to your local store for free. If you need to ship it to your home (such as too busy with work, home, kids, or don't have 'The Source' near you), then you can pay only $4.99 which to be honest, is actually totally worth it. If you spend over $25, shipping to your door will be free. Why not grab several of these? Random colours are sent, but they are all quite lovely. There are 4 colours total.
(Deal expiry: July 27, while supplies last.)