Telus Student Promo: Internet 25 & $50 Pre-paid VISA Card & 5GB Cloud, & Norton Security only $30
6 August 2015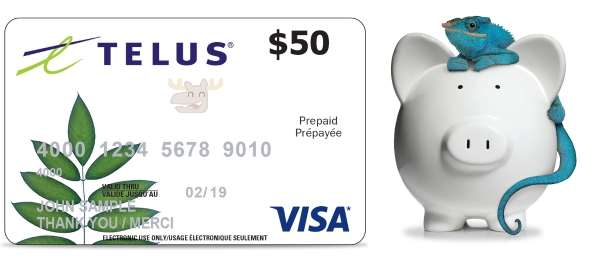 Telus and Shaw are back with their student promos and Telus has, by far, the better deal. Receive 12-months of Internet 25 for $30. You will also receive a free $50 pre-paid VISA Card, 5 GB of TELUS Cloud, Norton Security Basic, built-in home Wi-Fi, and free installation.
You can choose different internet speeds when you sign-up and each of the speeds is substantially discounted from the original price. Different levels of internet service are available in different regions but here is the cost tier:
Internet 15 Plan: $30/m (12 months)
Internet 25 Plan: $30/m (12 months)
Internet 50 Plan: $40/m (12 months)
To qualify for this deal, you must attend a post-secondary institution and have a student number. I wish I could take advantage of this deal still as my current internet charges are killing me: nearly $80 for internet 25? Come on!
The $50 prepaid Visa card is like cash in your pocket. You can use it anywhere that accepts regular Visa cards. After installation, the card will be mailed to you at the address you provided upon registration with Telus.
This offer comes with a couple other bonuses. You are given 5GB of cloud storage to store, sync, and share content. You are also given Norton Security for two devices whether iOS, Android, or a Windows PC. Keep your smartphone and computer safe without paying anything extra.
The Telus back to school deal is better than Shaw's deal for two reasons. First, Shaw's student internet package is only eight months long, whereas Telus's deal lasts for a full year: 12 months. Secondly, Telus's offer comes with a $50 free Visa card for first-time signups. This is a sweet bonus that Shaw's offer does not include.
Telus is not available in all provinces (I know Alberta and British Columbia have it), so you will want to get the Shaw Student deal if you cannot find Telus in your area. Just to give you a rundown, the Shaw deal offers:
Internet 15 Plan: $25/m (8 months)
Internet 30 Plan: $30/m (8 months)
Internet 60 Plan: $50/m (8 months)
There are also a few TV packages at Shaw that you can pick up. I am unsure if there are any special offer TV packages for students at Telus Canada but you could always call and ask them. These back to school internet promos are an amazing way to save a lot of money. With the Telus offer, you will save nearly $450 per year.
(Expiry: Unknown)
More Back to school