Stacy's Pita Chips Have Got It Going On, 54 Cents Per Serving @ Amazon.ca!
24 July 2016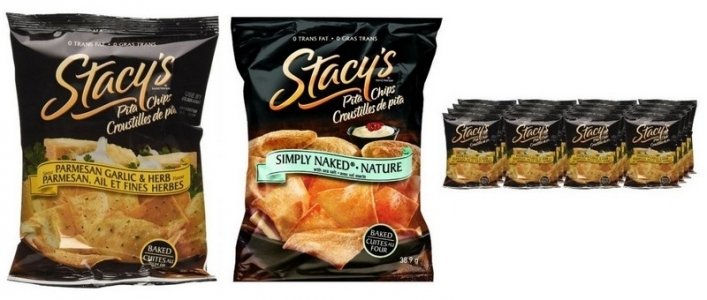 At 54 cents per individual serving bag of Stacy's Pita Chips in the Garlic and Parmesan Flavour, count me in. These individual bags are perfect for school lunches for all ages and are great for taking on the road, or snacking on in your home. I love individual serving bags for items like this because they stay so fresh and crisp!
The regular price is $15.99 at Amazon.ca but there's a coupon you can 'clip' to save $3, bringing the price down to only $12.99. Each bag is one serving, and contains 190 calories and 7 grams of fat.
You can try these crumbled up on soups and salads. I've used Stacy's pita chips crumbled up, on top of baked casseroles. So good!
Shipping on this item is around $8 (if not an Amazon Prime member) so in this case, I would definitely just top up my order to over $25 in order to receive free shipping.
Only one $3 coupon can be applied 'per variety/flavour' though, so if you purchase 2 of the same variety of Stacy's Pita Chips, you'll end up paying $15.99 for one box and $12.99 for the other box, and would get free shipping, for a total of $28.98, or 60 cents per bag.
If, on the other hand, you purchase one box of Stacy's Pita Garlic and Parmesan Chips, and one box of Stacy's Simply Naked Pita Chips, then a $3 coupon is applied towards both giving you a total $6 savings, and shipping is free. This brings the total to 54 cents each bag!
(Deal expiry: Unknown)