Costco Canada: Desks & Bookcases For Kids Up To $50 Off
15 August 2013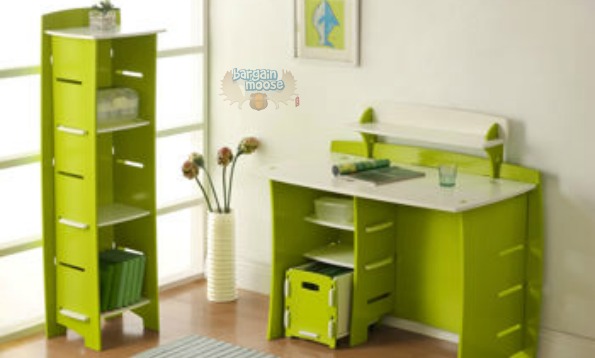 Get your child ready and organized for all that homework with a new desk and bookcase for their bedroom or other workspace, and save up to $50 in the process at Costco.
I bought my kids a desk for my office last year, so that they would have a spot to do their homework and work with their tutor. It has been awesome having this desk, because all of their craft items, books and school paperwork stays off my desk and my kitchen table, and goes on to their desk. It also allows the kids a quiet place to work away from their brothers, also where I can sit and help them at the same time. I just wish each kid had their own desk, but I don't have the space for that right now!
These Gabby student desks on sale at Costco are great because they come in bright colours that can match the room decor, and could encourage kids to want to have a desk.
The Gabby desk and bookcase in either green and white, blue and white, purple and white or pink and white are $50 off, was $329.99, now $279.99. With adjustable shelves and a mobile file cart, you can store all of their work easily.
The desk alone is also a great buy with $35 off, was $229.99, now $194.99. You can also just get the bookcase, was $115.99, now $89.99. The same colours are available.
Costco offers free shipping on these products, which makes it an even greater deal. They also say that these items can be assembled tool-free in less than three minutes. You know what that means, don't you? Make the kids do it themselves, of course!
(Expiry: 18th August 2013)