Teething Problems Solved? Munch Mitt $22 @ Well.ca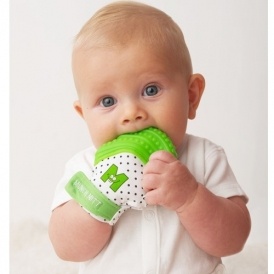 Do you ever come across a product you think is just so brilliant, you must share it? Well, I had one of those moments when I discovered the Munch Mitt! If you haven't heard of it and you're expecting or dealing with a teething baby, you must check it out. It's just $21.99 at Well.ca.
The Munch Mitt Teething Mitten prevents the constant dropping of teething toys (remember that game?). It provides easy access pain relief for little ones that are still learning grip, direction and coordination. It also does the all important job of protecting little hands from irritation and skin damage due to chewing and excess saliva.
The Munch Mitt is a hands-free solution for parents, too. And couldn't you use a bit of free time?

The mitt is interchangeable between hands; simply flip the mitt and make sure baby's thumb is in the right area. It's BPA- and phthalate-free and made with food-grade sillicone and a soft, breathable, water-resistant fabric that's machine washable. That's right--just toss it in the included travel/wash bag and pop it in the washing machine then let air dry. This fantastic little invention even stimulates the senses with a crinkle noise and a black and white pattern.
Oh, how I wish I'd discovered these a year or so ago when our little guy was in the throes of teething!
Had you heard of the Munch Mitt? Have you tried it with your little one(s)?