The Perfect Kids' Duffel Bag for 50% @ Walmart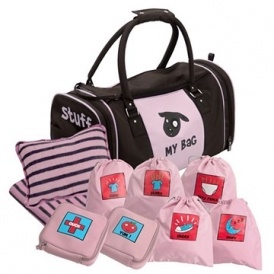 I wrote yesterday about my number one must-have accessory for myself—a perfect leather tote bag. Now I'll share my must-have bag for my kids—this Kushies overnight duffel bag. This bag is regularly $79.99 but right now you can grab it on clearance for just $40.
This bag appeals strongly to my OCD tendencies. It's the organizing pouches that do it for me. I'm not wild about the colour combo personally, but can overlook it because of those pouches! One for snacks, toothbrushes, and a couple for dirty clothes! No more plastic bags required! It's an organization freak's dream come true.
It even comes with a plush little pillow and blanket and—though my kids have 'special' ones that they make me pack for them anyway—it's nice to have the spares. It's got zipped pockets on either side, for diapers or other cosmetics, you can even tuck small books and toys in there.
If your kids spend the night with grandparents or travel back and forth between homes regularly, for $40 this little bag truly is a perfect purchase that you will never regret. In fact, you won't know how you even lived without it!
Sadly this is under the free shipping minimum, which is $50 at Walmart, but you can add on a thing or two that you already need anyway. Alternatively, opt for in-store pick up, Canada Post or 7-11 grab and go locations for free.
(Expiry Unknown)