Hynes Victory Leather Tote Handbag Now $30 Shipped @ Amazon.ca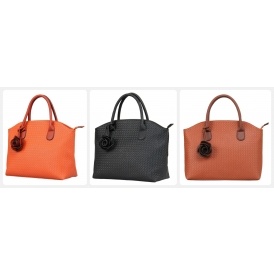 Spring weather has finally arrived - and spring means cute tote bags! How about this Hynes Victory Woven Pattern Grace Leather Tote Handbag which is on sale at Amazon.ca today for 79% off? It was $140 but right now you can claim it for just $29.99 while supplies last. That will even include shipping.
The Hynes Victory Woven Pattern Grace Leather Tote Handbag is available in three different colours at this sale price. You can get black, brown or orange. For spring and summer I really like vibrant coloured shoes and handbags so I think I would purchase the orange bag. They are all cute.
The title is a bit deceiving, but it doesn't make me double think the great price. This bag is actually faux-leather. If you are anything like me, then you will appreciate the zipper closure. While walking the mall, my toddler tips my purse and dumps the contents all over the place several times. The rose is also detachable if you are not too fond of it, or want to put it on something else. The tote is big enough to carry around your iPad or small laptop if you desire.
This item is sold by Hynes Eagle and is fulfilled by Amazon Canada, so since it is over $25 you will have shipping and handling included.
Moosers, what colour did you choose?

(Expiry: 17th March 2016)