Fun Sunnies and Wallets from Just $9 @ Aldo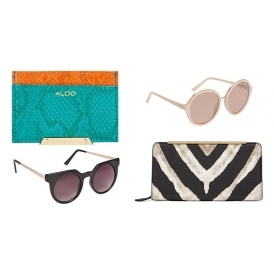 My wardrobe is made up of simple basics. Jeans, tee-shirts and tanks are my staples for spring, and I buy the best quality I can afford so that I don't need to worry about replacing them year after year. Instead, I like to focus on the fun stuff when the seasons change—accessories, of course!
Aldo has some decent sales on very fun, on-trend accessories right now, such as funky sunglasses from just $12 and bright card-holders from just $9!
If you're like me and prefer to update accessories such as wallets, hats, scarves and sunglasses, Aldo is often a great place to start. They carry good quality, trendy choices and always have a wide variety of colours and patterns to select from. Because my wardrobe is someone bland, I'll run out to the store carrying a bright card holder like this and instantly add pop to my attire!
And as soon as that sun starts to shine I'll not be caught dead without my sunnies. I like to go a bit wild, since the rest of my look is pretty subdued. I just love these fun nude shades, available right now for only $12!
These are clearance items so I'm guessing they are only there until they are sold out, expiry is unknown. Shipping is standard $5 unless you spend over $70, but you can also have items shipped to your local store for free.
What's your favourite way to accessorize a basic outfit?