PJ Masks are the nighttime superheroes that work "into the night to save the day", and the kiddies love them! If your little one wants to be like Catboy, Owlette or Gekko, they need the right gear - so we've tracked down where to find PJ Mask costumes at the best prices.
PJ Mask Catboy Costume
Connor is a regular 6-year-old boy by day, and Catboy by night! Donning his blue cat pajamas he becomes superfast and agile. If you need a toddler sized costume, Walmart has the best price at $19.98, but for child-size, you'll want to shop PartyCity where the costume is $29.99.


PJ Mask Owlette Costume
Amaya is the leading lady in PJ Masks, but when night falls and she puts her pajamas on, she transforms into Owlette. This girl can fly high into the sky and has super vision to help solve their missions. Costume Super Centre has Owlette toddler costumes for $31.04 and for sizes 4-6 check out Walmart where you can get an outfit for $29.94.


PJ Mask Gekko Costume
Greg rounds out this trio with his super-awesome superpowers. When he turns into Gekko, Greg becomes super strong and can even scale walls. You can get a toddler Gekko costume for $36.99 at Party City, and for sixes 4-6x, Walmart has the best price again at $29.94.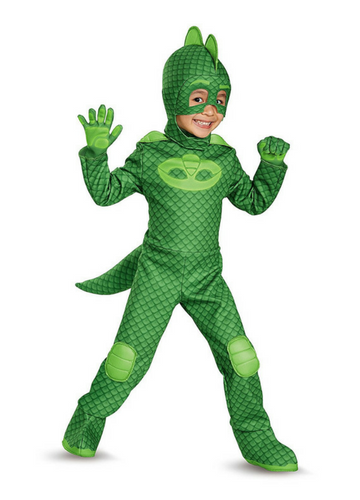 Of course, Amazon.ca always has a variety of PJ Masks costumes as well. And if you just want something simple, this Cape & Mask Set is only $19.99 and you get the mask and cape for all 3 PJ Masks.
Now, if only these costumes would help little superheroes actually go.to.sleep!