Pangea Organics Canada: 20% Off Valentine's Gifts For Him & Her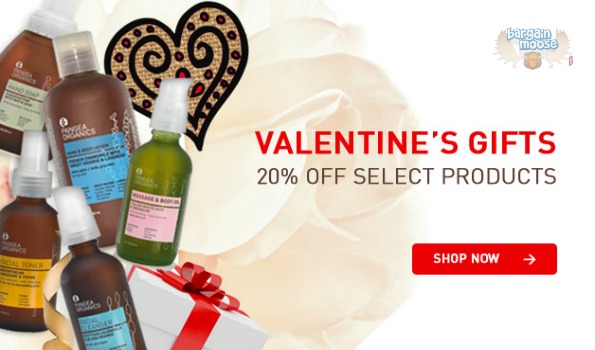 Get 20% off select products for Valentine's Day at Pangea Organics Canada!
One of my favourite things to do with my husband on a date night that is virtually free and we don't need to pay a sitter, is a spa night. He is a great sport letting me add creams and masks to his face, loofah his feet and sometimes even give him a massage. What a great gift it would be to give him some great Pangea Organic products as part of a Valentine's Day spa gift. And if he wanted to take the lead on something like this, I'd be absolutely thrilled.
Let me tell you how a date night like this might progress:
First, I'd start with the Australian Wild Plum & Willow Cleanser for his face, a cleanser rich in antioxidants and essential fatty acids and I bet it smells great. Now only $24, regularly $30.
In the shower he would wash with the Italian White Sage and Geranium & Yarrow Body Wash, a rejuvenating wash with anti-allergenic and anti-inflammatory benefits. Now only $14.40, regularly $18.
Once he dried off, I'd add the Italian Green Mandarin with Sweet Lime Toner to tone and refresh his skin on his face. Now $5.60 off, get it for $22.40.
One very important step is the lotion. My husband's very dry skin will thank me. The French Chamomile with Sweet Orange & Lavender Body Lotion soothes skin at only $16, regularly $20.
Now, if he is lucky, he'll get a massage, or he can give me one to thank me for all the wonderful things I've done with his skin! The Pyrenees Lavender with Cardamon Body Oil is the perfect item to do just that. It was even designed to relieve tension in the skin, and who doesn't need that after a long winter? Regularly $26, now only $20.80.
Shipping is free on orders of $75 or more, and you will get one free sample.
Expiry: Unknown