Jackmans Canada: 15% Coupon Code! Lovely Flowers! Yes Please!
Hands up who loves getting flowers? Me! Me! Me! I like it a lot! Everyone who is reading this has permission to send me flowers, right now! Just make sure you all correspond with each other and buy me lots of different colours and types. I like roses a lot. Get me 2 million roses!
Anyhoo, here's the deal, my reason for blogging! You can get a 15% discount from Jackman's online florist when you use this online promo code: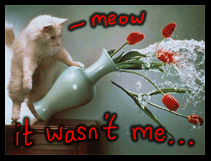 Where

: Online @ Jackmans florist

Discount

: 15%

Coupon Code

:

VISA2008C
Expires: 31st January 2009
Technically, you're supposed to use your Visa card with this deal. Nuff said. Their standard service charge is $11.95… but the 15% discount should knock a good part of that off, or may even be more discount than that, depending on how much you are spending.
I once gave my OH a bunch of orange roses for Halloween. You know, I don't think they were orange to start with though… they may have been spray painted orange! We left them up for months, until they were rotted and drooping and looked very Halloweeny, very Morticia Addams!
P.S. Click the "valentines ideas" tag for more blog posts with great Valentine's gifts.