Graydon Clinical Luxury Coupon: 20% Discount on Natural Beauty Products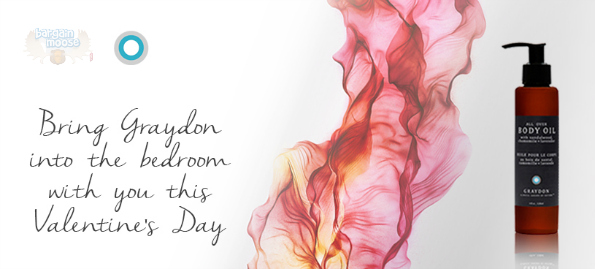 If you are looking for the optimal gift for your all-natural loving partner, then look no farther than Graydon Clinical luxury. This wonderful little Canadian company produces body and facial care products made with all natural ingredients, many of them native to Canada. Just in time for Valentine's Day, Graydon is offering 20% off all orders using the following coupon code, with no minimum required.
Click here to shop @ Graydon Clinical Luxury now
Coupon Code: BeMyValentine
Discount: 20% off
Expiry: 8th February 2015
Previous Graydon deals have been for specific a bundle, which is great, but it really does not help if you want to try products not included in the bundles or you do not need specific products included in each bundle. Here are some fun products that I would highly recommend!
Before Bed Spray - Was $15 | After coupon $12
When I purchased this spray, I was not entirely sure how I would use it. Yet, months later it is proving to be my new best friend. I spray my pillows before bed and the gentle scent helps relax my mind. Moreover, I spray my oversized plushie that I sleep with (uh huh!) with the spray as well. The anti-microbial ingredients help to keep my plushie from being a toxic little playground.
The Putty 50 ml  - Was $29 | After coupon $23.20
I cannot recommend this product enough. Quiet rashes, help your eczema, sooth inflamed skin, and promote healing with The Putty. I like to think of this as the ultimate moisturizer to 'tack' your skin back together. I use it every day, so I upgraded to the 240 ml bottle at only $49. With this coupon code, you would pay $39.20 for that large size bottle.
All Over Body Oil 120 ml - Was $24 | After coupon $19.20
I own this body oil, but have not had the opportunity to fully test it out yet as I am currently finishing another bottle. However, it smells nice without being too feminine (guys should like it too) and it would make a lovely massage oil for Valentine's Day. It also has many other purposes like:
applying on cuticles, the ends of your hair and even for shaving your legs! There is not a lot this multi tasking oil will not do.
I would not have thought of any of those things, so I am glad that Graydon offers some ideas on what else you can do with her products.
Graydon offers free shipping across Canada on orders of $100 or more. You can also request samples for only $1.50 each.