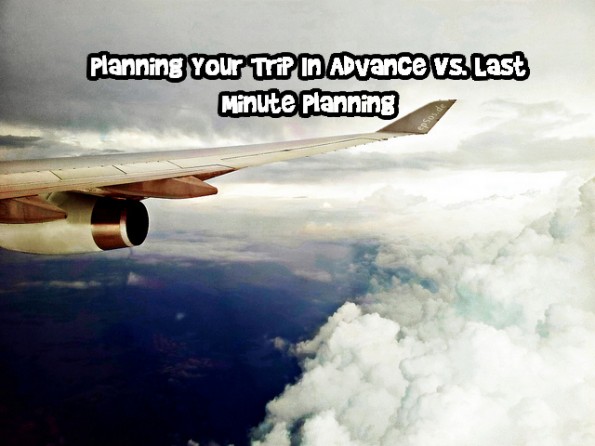 The weather here sucks.  I can't wait to get away, and I wish I had booked my winter trip earlier in the year.  Are you considering going on a last minute trip to escape this dreary weather?  Sometimes booking a trip last minute can save you big bucks.  Sometimes, however booking in advance can save you cash.   I started planning my cruise in March over a year and a half ago because of the amazing deals that were on.  Next winter we are planning on taking my daughters to Disney in the winter.  Will I wait until the last minute to book the trip?  Absolutely not, I have already started to plan for that trip, as we have particular needs and wants for our stay.   But what works for me won't necessarily work for you.  Below are some tips and strategies to help you plan in advance.
Does planning in advance really save you money?
I must confess that by nature, I am a planner.  I know where I like to go, and what I like to do.  I am not someone who seeks the thrill of adventure or takes pleasure in visiting many foreign destinations.  I like trips to Florida with my family, the Caribbean or a cruise (boring, I know).   I am also a planner, and I like to have lots of time to anticipate my upcoming trip.  I love travelling and getting away, and the farther in advance the trip is booked, the more time I have to get excited for the trip, plan different excursions, etc.  But for you, here are a few factors to consider when considering whether to book your trip in advance:
Do you have a particular destination and/or itinerary in mind for your trip?
Are you travel dates totally inflexible?
My parents were teachers, and we typically took our annual vacation at March break.  Therefore, they had little flexibility if we were going to travel during the winter months.
For our upcoming cruise in March, there was an amazing deal from Celebrity Cruises that we just couldn't pass up, which gave us a free drink package for our trip.  Additionally, I did some research and discovered that by booking the cruise with an American travel agent, we would likely receive some additional bonuses, such as free gratuities and an onboard credit.  I went to a website called Cruise Compete, which provides numerous competitive quotes on the cruise you are considering.   By booking our cruise this way, I saved well over $1000, considering the bonus of the drink package, the onboard credit and pre-paid gratuities we received.  Once I booked the cruise, I booked our flights.  Because we booked the cruise well in advance, I knew I could probably get a good deal on flights.  In order to do so, I applied for a Westjet Mastercard to take advantage of the $250 credit and $99 companion flight for cardholders.  The application process was involved, I had to go to the bank, apply for the card, then wait to be approved.  Once I was approved I couldn't get the bonuses until I made my first purchase on the card.  From the time I applied for the card until I could use the benefits, it was around two months.  Obviously, you need to plan in advance if you are taking advantage of a credit card travel deal.  It was worth it in the end, instead of the retail cost of our two flights from Toronto to Miami of around $1300, I paid $561.
Planning an awesome, last minute vacation
On the flip side, if you are flexible with the dates of your travel, you aren't particular about where you stay, and you're up for an adventure, a last-minute trip could be for you!  Check out this life hacker article about how to plan a cheap, last-minute trip.  There are lots of great last-minute travel sites out there.  I booked a trip a few years ago through Redtag Deals, and they were awesome to deal with.  My hubby and I have always toyed with the idea of taking a last minute vacation, but it has never worked out date-wise.  Remember that travelling in the off season can get you even better deals.  For example, if you are interested in travelling to Cuba, travelling there in the fall or spring will get you stupendous deals.  Personally, if I am going to an all-inclusive resort, I like to stay at a 4-5 star resort that has lots of amenities.  I know I am more likely to get a good deal on a resort like this if I travel In the off-season.
Professional organization/workplace deals
I am a member of a professional association that has a special "deals" affiliation that grants me free access to a last minute travel subscription.  If I were ever to go on a last minute trip, I would definitely look into this, as some trips are as low as $500 for an all-inclusive week in the Caribbean!  That deal is hard to beat.   They also have deals on cheap airfare.  Check out this article from the independent traveler for more great deals on cheap airfare.
Whether you're like me and get a thrill through the waiting time between booking your trip and taking your trip, or you prefer the thrill of waiting until the last minute to book your trip, be sure to shop around to get the best rates.  Most people book their travel through the internet these days, but online or in-person travel agents can be worth their weight in gold.
Bargainmoosers, what are your top travel planning tips?
Photo credit: epSos.de