If you're going to stay at a Motel6 in Canada (or even in the US), this handy coupon code gets you a 10% discount on the cost of your stay there.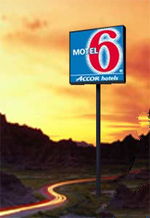 Click here to use the Motel6 coupon code online
Coupon Code: CP545856
Discount: 10% off
Expires: Unknown
How to use:
When you are going through the booking process, there's a slot for "corporate plus/ID number." When you use the above coupon code in that slot, the 10% discount is shown in the price of your chosen hotel.
I tested the coupon code out on a hotel in Ontario, and it worked well! I've never stayed at a Motel6, have you?
Terms and Conditions:
Room rates are subject to all applicable taxes. Some locations and dates may be excluded. Discounts are subject to change without notice. This offer cannot be combined with any other offer.  Children 17 and under stay free when occupying the same room with an adult family member. Reference CP545856 when checking in.
Find this and other Motel6 coupon codes on our coupon forums.