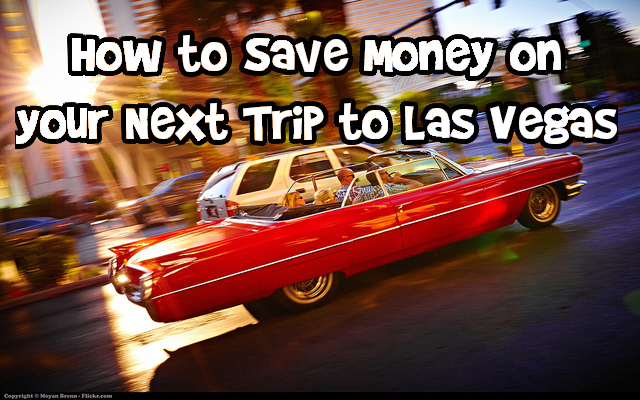 Las Vegas is also known as Sin City, and for good reason.  I have been to Las Vegas a few times and each time I go, it strikes me as somewhat analogous to a Disneyland for grown ups.  I have had some trips where I spent very little (and even managed to win back the cost of my flight on BlackJack) and where I have spent more than I would have liked.  It is very easy to spend a lot of money (quickly) in Las Vegas, especially if you like to try your luck.
Here are some ways to save money on your next trip to Las Vegas, and hopefully Lady Luck will be on your side:
Stay for Cheap
One way to save money on accommodation in Las Vegas is to buy a package with a flight and accommodation.  However, if you prefer to book separately, make sure you check the usual suspects, such kayak, hotwire.com, and Priceline to get a good deal on a flight and vacation package.   I also find Westjet vacations to be another source of good vacation packages.
Go When No One Else is Going
According to Buzzfeed, the non-peak months to head to Vegas are July and August (makes sense because it is over 40 degrees outside, I can attest to that because I went during August) and mid-December.   I recall going to Las Vegas during the Christmas/ holiday season and hotel accommodation was quite reasonable at that time.  It also makes sense because most people are spending time with their family rather than partying it up.  In addition, when you choose to visit on a Tuesday, Wednesday, and Thursday (typical slow days) you don't have to pay as much in accommodation room costs.  When I mean as much, I mean usually double on the weekends!
Also, Yahoo recommends that you check out the Las Vegas Convention Centre to see if there is a convention going on. If there is, avoid this time because hotel costs are going to be expensive!
Fly Out from the United States if Possible
One way to save money is to fly from the United States.  If you live in a city near the border (like many cities in Canada) and if you leave from the United States, you can save upwards of $100-$200 on your flight to Las Vegas.  Some discount airlines, like Allegiant Air provide flight service for a steep discount.  However, just make sure that your carry-on baggage complies with the baggage rules.  Otherwise, you'll have to pay extra per baggage, unfortunately.
Save Money on Entertainment
Another way to save money on something that is quintessential to Las Vegas (and everyone enjoys) is to check out a show or movie or two using TIX4TONIGHT.  They are usually in a yellow booth on the strip somewhere.  On average, the savings are about 50% of the regular price of the ticket.  The only caveat is that you have to be ready to watch the show that evening (hence the title Tickets 4 Tonight) and there's usually a bit of a line up as well.
Of course, don't forget the Bellagio fountain show.  That's absolutely free and it's beautiful to watch.
Don't Buy any Drinks
Another way to save money while in Vegas is to avoid paying for drinks.  The great thing about Las Vegas is that when you sit down at a slot machine or when you're at the Blackjack table, when they offer you free drinks, it is ACTUALLY free. So don't buy any alcohol or drinks. The only thing you would have to do is to tip the server $1 to $2 per drink when they bring you your drink.  Much cheaper than the $14 I once paid for a drink by the Venetian pool.
There you have it, hopefully these tips will help you save some more money on your next trip to Las Vegas, so you get to spend the money on things that truly matter (like the delicious lunch buffets that Las Vegas has to offer, for example!).  Just remember to gamble safely, and only bring an amount to the gambling table what you are comfortable losing.
Bargainmoosers, what are your favourite ways to save money in Sin City?
Photo credit: Moyan Brenn