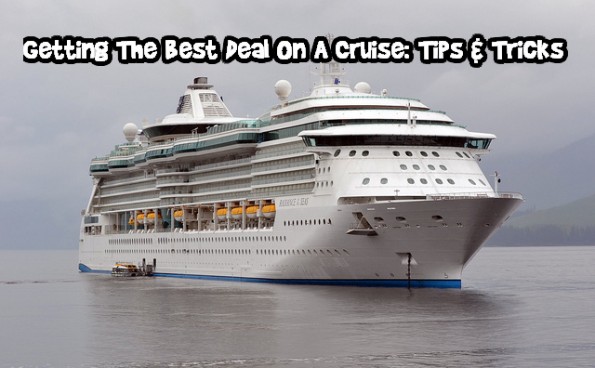 My husband and I are leaving in a week for our first family-free trip ever!  We have always traveled with family on all of our holidays, and we are excited about the prospect of going on a child and parent-free trip.  Cruising is absolutely my favourite way to travel.  I'm a Pisces, and I love being on the water and having the flexibility of lots of activities on the boat, and different islands to visit.  Being the frugal girl that I am, I always make sure to get the very best price possible for my trips.  Here are some strategies I use:
Book way in advance or book last minute
For the cruise we are going on in a week, I booked our tickets 16 months in advance.  The reason I did so is because we wanted a certain category of room, and a very particular room specifically.  As well, the cruise line which is our favourite (Celebrity), had a stupendous deal on: book a cruise and get a free classic drink package.  Given that we paid for our drinks package on our last cruise, and given how much we used it, I knew this was a deal too good to pass up.  By booking in advance and taking advantage of the drinks package we saved ourselves about $400 per person on the cruise fare, and about $380 per person on the drinks package.  Grand savings per person?  $780!
Conversely, there are tons of great deals if you have the flexibility to book 90 days or less before your cruise.  Check out Vacations To Go for the best last-minute deals.  Looking at the prices on these cruises is upsetting since we paid more than these prices for our cruise.   But by booking last minute you are taking a risk on finding a good price on a flight.  If you have flexibility with your travel dates, however, booking last minute could be the way to go.
Use a travel agent
A frugal trick for getting a great deal on your cruise, is to go to a cruise-quoting website such as Cruise Compete to receive competitive quotes on your next cruise.  You may then book your cruise with the online travel agency that gives you the best deal.  For this cruise we booked with an American-based travel agency called American Discount Cruises, and we have been very happy with their service.  I don't know why, but it seems like American travel agents give much better incentives to book with them.  For example, if I had booked directly with a Canadian travel agent, I would have received a $150 onboard credit.  With our American TA, we received $175 onboard credit, specialty dining for 1 night, and chocolate covered strawberries, for a total incentive of almost $300.  When you book with a Canadian TA you are covered under their TICO insurance, but due to the increased incentives with our American TA, that is one risk we were willing to take.
Frequent cruiser rewards
Most cruise lines have some type of frequent cruiser reward program.  This will be our second cruise with Celebrity, and we will receive a few small discount coupons to use in the casino and on internet.  The real rewards are reaped when you have a number of cruises under your belt, check out Celebrity's Captain's Club program.
Research to find the right ship and the right cruise line for you
One of my favourite cruise-related websites is Cruise Critic, it has cruise reviews, general information about cruising and discussion boards.  I am relatively obsessed with this website prior to any cruise, I love their discussion boards as you can really pick up some good tips on saving money on your cruise.   Cruising is a popular way to travel, and cruise lines are always building new boats.  There are lots of cruise lines with different focuses.  For example, many of Royal Caribbean's boats have some pretty amazing activities like rock climbing and an ice skating rink.  The cruise line we like is Celebrity, and their tag line is "modern luxury," which means that there are less activities and lots of upscale restaurants.  Some of these activities and restaurants have costs associated with them, however, so do your research.
Beware of the big bill you can rack up while on the cruise
Like I said earlier, research the type of ship you will be travelling on to determine what your onboard costs will be. Without careful planning you can end up with a huge bill at the end of your cruise.  Remember that unless you get a deal like the one I mentioned, alcoholic drinks are not included in your cruise.  Many people go for broke with drinks, and don't pay attention to their costs onboard.  Also, you can purchase excursions through the cruise line for the different stops on your ship.  These can be expensive, and you might not get the best bang for your buck.  Be aware of your spending and plan in advance for your out of pocket costs.
Trip cancellation insurance
Generally speaking, if you are taking a trip purchasing trip cancellation insurance is a good idea.  On our last trip, my dad wasn't able to attend at the last minute due to a health concern.  My parents' trip cancellation insurance was invaluable.  Check out what coverage you have through your credit card, and check to see what insurance you can purchase through your home and auto insurance company.
Airfare
Remember that if you don't live close to the departure city, you might have to fly to your cruise.  Booking your airfare in advance can get you the best price for your airfare.  Remember to factor in the airfare price when you are considering your cruise costs.
It's easy for costs to rack up for any vacation, but with a cruise even more so.  Costs can really increase very quickly if you don't plan for them.  I try to plan all of my costs for my trip but I know that I will be caught up in something I want to purchase or to treat myself with.  Did I mention the shopping you can do while on the ship?  I can't wait for our trip, but I really have to restrain myself when I'm travelling.
Bargainmoosers, do you like to cruise?  How do you save money while cruising?