Email Discounts: Orange Julius Discount Coupons!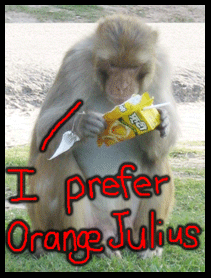 If you join the Orange Julius Quench Club online, they will send you email newsletters from time to time. They don't send them very often, they don't spam you like mad or anything.
When you first sign up, they send you a free printable coupon for a free 20oz fruit smoothie with the purchase of the same. They also send you an email coupon on your birthday, plus various other coupons throughout the year. An example of a free coupon I have received in the past was this $1 discount coupon for Orange Julius.
I must say I'm not a big smoothie fan… I much prefer the plain fruit juices. My sister got one of those mad centrifugal juicers last summer, and I went a bit mad with the juice making! I was making lots of strange concoctions and storing them in the fridge… and making people taste a little tiny bit of each one!
I'm definitely more of a fruit juice fan… I really don't like vegetable juices. I tried carrot and ginger, and nearly puked. But the juicer was great – you could do a huge batch of orange juice and it would last you for a day or two, when kept in the refrigerator.
Click the email discounts tag for more great ideas for email signups!
Thanks aNantaB.