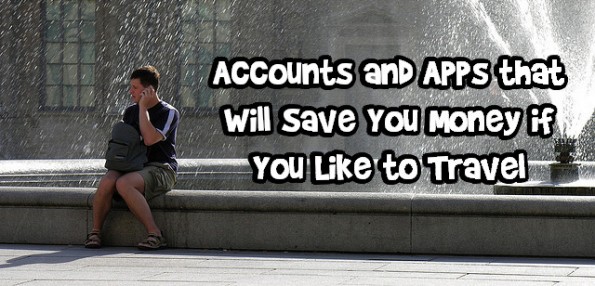 I'm a huge fan of travel, especially international travel.  Over the years and almost 40 countries that I have visited, there have been a few accounts and apps that have been helpful for me when I plan my travel and also during the actual travel itself.  Here are five apps and accounts that may be of interest to you for your next vacation abroad.
Tangerine Chequing Account
I recently signed up for the Tangerine Chequing Account (I already have savings accounts with Tangerine, which used to be known as ING Direct) solely because Tangerine waives International ABM Access Fee (which can usually be upwards of $5 per transaction from your usual bank, in addition to the $3-5 that the International ATM charges you).  The International ABM Access fee is waived except for in Colombia and Panama.
The great thing is that the interest rate is better than any big bank chequing account too, 0.25% as of writing this post.  For current rates, check out Tangerine's website here.
On a recent trip I tested it out (made a few purchases on an ATM internationally in the Netherlands and Denmark) and checked my Tangerine account when I got back.  Low and behold, the only transactions I saw was the conversion rate, thankfully there were no extra fees charged from Tangerine.
If you are interested, Tangerine often has great cashback discounts for opening an account.
Amazon and Mariott Rewards Visa Credit Card
This is a popular travel credit card, however, I do not own it myself.  The foreign transaction fee is preset by Visa and Mastercard, at 2.5% of your purchase.  With the Mariott Rewards Premier Visa Credit Card, you can stop worrying about the foreign transaction fees that your typical credit card will charge you (which are usually hidden and you won't be able to see it directly on your credit card bill).  Same goes for the Amazon.ca Visa credit card in Canada.  These are both from the bank, Chase.
Check out The Toronto Star's article on credit cards to save you foreign transaction fees for more information.
Pay Back App
The Pay Back App if one of my favourite apps and probably the app that I have had the longest, pertaining to travel.  I have used it when traveling with friends and they are a big fan of it too.  No more ambiguity when it comes to who owes who for what.  No more complicated charts and records.  With the Pay Back App, you can record multiple trips and use different currencies (as long as you double check with the current conversions to make sure they are accurate).  All you do is input the friends involved in the trip, input the expenses (and to make sure you click on who paid for the expense and who is involved in sharing the expense), and at the end of the trip, click "PayBack!" and you have a summary of who owes what, which can be emailed as well.
XE Currency App
I have had the XE Currency App for years.  It uses live and mid-market rates (but you need access to the Internet, though it can save the exchange rate if you leave the wifi area) and you can add the currencies you want to compare.
You can download the XE Currency App here, the cost is free!  It is available for iPhone, iPad, Android, BlackBerry, Windows, and Firefox OS devices.  Although the currency exchanger that you use or the credit card rate that is charged will be different than the lives rates that you obtain from the XE Currency App, you will at least know how much it should be...roughly.
Google Translate
According to LifeHacker, one of the best apps to get if you travel abroad often is either Google Translate or iStone Travel Translation.  For Google Translate, you can either type your phrase or say it to Siri.  Google Translate has the capability to translate 58 languages in text or 23 languages by voice.  Pretty amazing if you ask me!
There you have it, there are some tricks from the trade on how to save money if you travel abroad often.  I hope these will be of utility for you on your next adventure!
Bargainmoosers, do you have any tried and true tips and tricks to save money while traveling abroad?
Image credit: Peter Rowley