Wild Tangent Games: 25% Off ANY Game (PC, Android) With Coupon Code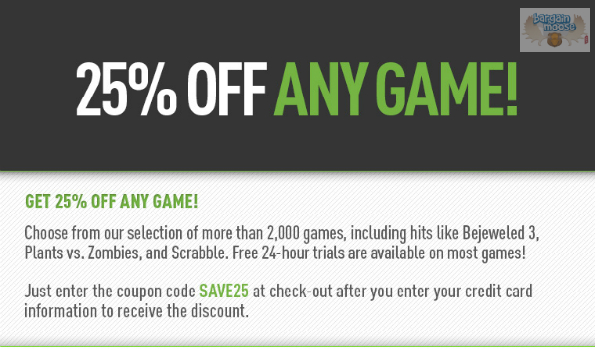 WildTangentGames already lets you play over 1600 game for FREE but sometimes the game you want costs a bit of money and no one wants to pay, right? Well how about you pay less with a 25% off coupon code!
Click here to get 25% off ANY game @ WildTangent.com
Coupon Code: SAVE25
Discount: 25% off any PC game
Expires: Unknown
Wild Tangent has been around for a while and, for me, they weren't a player until they got on Android. That was pretty much because if I was going to be on a computer playing a video game it was going to be a full PC game or, if I needed a quick fix, I'd hop on some random free flash game site.
Now, with the prevalence of Android devices and the rise of casual gaming in general, this is a very interesting service. For me it'll very likely be an Android thing because, like I said earlier, if I'm on the computer to game, I'm playing a full on PC game, not a casual game. But on my Android device I do a lot of casual gaming. They do have stuff that, really, isn't that casual. They have all genres imaginable from action to RPG to sports and all points in between.
Make sure you check out our Wild Tangent Coupon section for more deals! Go though and take a look at the games they have available. Let me know what game you're saving 25% on in the comments below!