Where to Buy Fingerlings Sloths in Canada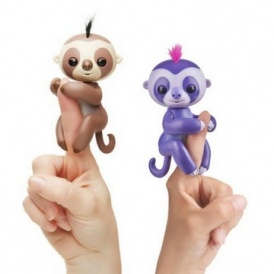 Fingerlings Sloths are finally here in Canada! After the Fingerlings Toy Monkeys sold out months before Christmas, you'll probably want to get your hands on one of these little guys ASAP – so we put together a master list of everywhere you can buy Fingerlings Sloths in Canada!
Just like the original Fingerlings, these cute critters love to grab onto things and respond to noise, motion and touch – and they're the perfect way to slow things down a little!
There are two new sloth friends to choose from (in purple or brown) , and you can find them both on sale for $19.99 (down from $24.99) at Mastermind Toys! Just make sure you select the colour you want before you check out.
Mastermind Toys limits each customer to two Fingerlings, so make sure you keep that in mind if you're hoping to buy a few!
You can also find both of the Fingerlings Sloths at Showcase for $24.99! And if you see them in stock anywhere else in Canada, be sure to let us know in the comments!
Have your eye on a different Fingerling instead? Check out our lists of Where to Buy Unicorn Fingerlings and Where to Buy Fingerlings Toy Monkeys for all the best deals in Canada!