Toys R Us Canada: Vicks Starry Night Cool Mist Humidifier Was $60 | Now $36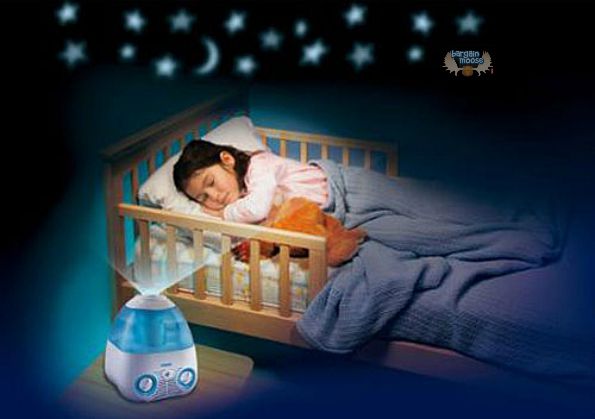 Sniffle time is coming and in fact, I have quite a few adult friends that are already sick this season and the kids are sure to follow right behind. My oldest son just told me this morning he can't breathe out of his nose. Sigh. Anyway, when you have a stuffed up kid, you know that sleeping at night is not going to happen. It was a serious lifesaver when I discovered a humidifier. Place it by your kid's bed and watch them able to breathe and go to sleep. Toys R Us has a fantastic deal going on right now on the Vicks Starry Night cool mist humidifer, regularly $59.99, now $35.97.
Not just a humidifier, this one also has a projector that works as a starry night light.It is also cool mist because the warm mist ones can create mould in the rooms and also have the potential for your child to get burned. I find the warm ones do work better, but I don't take the chance that one of my kids will knock it off the dresser and get burned by the hot water. Cool mist it is.
This item has varying reviews, some saying that it cracked and leaked after not long. I actually have had a Vicks humidifier, although not this one and I found the base to be quite durable. Those that did like it, loved it and found that the white noise it created also helped the kids sleep. They also use the humidifier as a night light every night and only use the mist when necessary.
We use the humidifier when our girls are stuffy or sick, but use the nightlight feature every night!

No problems with leaks; we refill the tank from the bathtub for maximum tank fill, wipe down the excess water drops, carry the full tank upside down with the 'connector piece' on, flip it over to place into the base and only a couple water drops come out which land in the water tray within the base anyway, so no mess!
Looking around, this is a pretty hot deal as it sells for $60 or more elsewhere. Well.ca sells it for $62.09 on sale. Amazon also has it on sale for $51.25.
Shipping is free from Toys r Us when you spend $49, so you might want to find a $12 toy for your child and save those fees.
(Expiry: Unknown)