Toys R Us Canada: Radio Flyer 5-Way Family Wagon Was $250 | Now $187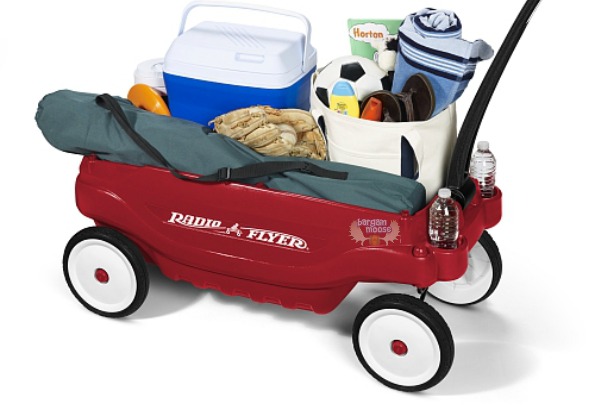 With summer coming, this means trips to the park, walks around the neighbourhood and generally just being outside. If you've got a toddler, you know that these walks mean going at a snail's pace and you also know that they will not sit in the stroller! What they do love to sit in, is a wagon and Toys R Us has a fantastic deal on this week on the Radio Flyer 5-way family wagon. Regularly $249.99, it is on sale for $187.47.
I am a mom who had a wagon, then sold it, then had another baby and wished I didn't sell my first wagon! It was so handy. I love the look of Radio Flyer wagons, as well and they have so many great features that make them worth the money. The manufacturer recommends this wagon for ages 2 - 8 years and Toys R Us recommends it for ages 2 - 4. I'm going to go out on a limb and suggest it is good for about ages 1 - 6. The reason I say this is that, as soon as a baby can sit up, they can sit in this wagon. I also know that my older kids would not say no to a ride in the wagon, especially when they got tired on walks. But, my 8-year-old would not be seen being pulled in a wagon.
The many features of this wagon include a removable UV protection canopy, which really is super important on those sunny days you want to keep your kids in the shade. It has child and adult cup holders and fold-up seats, that make it much more comfortable on the back than other wagons I've seen.
You have five seating options with this wagon. One option is to have both seats in place for two kids. From reading the reviews, I also found out that you can have two kids sitting in, but back to back and not face to face. This is great so kids don't fight! Another option is having one seat with a tray for doing activities, as well as a storage space, or you can take away the tray. Another option is to have no seats and just use it for stuff!
The many, many reviews sing the praises of this wagon and there are not many bad reviews:
This is THE best wagon on the market to date! The various seat adjustments makes this a very versitile and much needed wagon for families on the go.
I couldn't find this wagon anywhere else, but I definitely think this is a good price. If you love Radio Flyer, Toys R Us has up to 25% off a huge amount of items. As for shipping, you'll get $10 off shipping and for me that amounted to paying only $8 for shipping. I also have the option of picking it up in store for free.
(Expiry: Unknown)