Thumpin' ThingDoodles $36.99 @ MasterMind Toys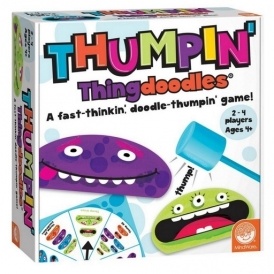 With the fall season now here, thoughts turn toward Christmas gifts for loved ones.
This Mindware Thumpin' Thingdoodles Game lends just the right touch of pure, raw fun while (albeit sneakily) sharpening skills at motor coordination, colour recognition and counting. It's geared for ages 4 and up and is fast-paced and energetic which engages interest. The game retails for $36.99 at MasterMind Toys.
The best part? Kids love thumping mallets on the table full of Thingdoodles, where they collect flat monster heads that wrap themselves around the mallets:
To play, spread out the ThingDoodles, spin to see which colour of Doodledee or Doodledoo is your target, and then thump away at it. ThingDoodles wrap themselves around your mallet when thumped! The first player to collect 20 ThingDoodles is the winner.
What kid doesn't love having a mallet in their hand that they can 'thump away at things' with it. (Be prepared for the kids to start hammering away at each other with it. It's safe, though!)
MasterMind toys offers free shipping on orders over $60, otherwise cost will vary, starting from around $12.99.